Lifting Up Voices to be Heard: Elizabeth Jones Valderrama Alumni Story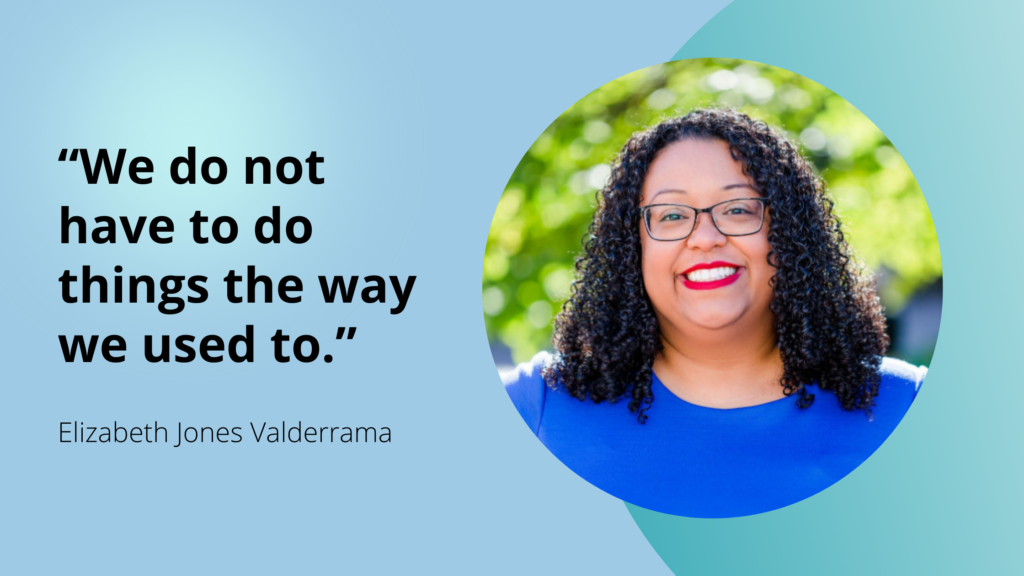 Elizabeth Jones Valderrama has called Arlington home since she moved here from Costa Rica at nine years old.
Today Elizabeth is the Executive Director at Offender Aid and Restoration (OAR) of Arlington, Alexandria, and Falls Church, Virginia. OAR is a community-based nonprofit organization working with individuals of all genders returning to the community from incarceration and their families, offering alternative sentencing options to youth and adults, and confronting and dismantling personal racism as well as systemic racing in the legal system and across all systems. The issue of mass incarceration wasn't on Elizabeth's radar until she was working at Arlington Public Schools and started meeting kids whose parents were incarcerated. She felt like she needed to learn more.
"[It] motivated me to look this up … because the majority of people who were coming in were Black, Indigenous, and People of Color (BIPOC) … I thought about 'how can this be different?" As she began reading about the issue of mass incarceration, she learned about OAR. She's now spent more than sixteen years committing her life to the participants of OAR's programs.
Elizabeth is also a Leadership Arlington alumni of the Class of 2009. Even having grown up in Arlington, she found that the program helped her learn much more about the community she serves. Most importantly in her mind, she formed close friendships with other leaders in her class and maintains those friendships as a support system today.
Under Elizabeth's leadership, OAR focuses on lifting up the voices of participants and being an intermediary to provide support to communities that have been systematically marginalized. If you are involved with the organization as a Board member, staff member, or participant, you'll see that they seek to advance "shared leadership," which is the idea that everyone is an expert in something and that everyone has expertise in different areas.
As a leader, Elizabeth realizes that "we do not have to do things the way we used to." She believes that leading a team includes focusing on developing a collective community where caring for each other, radical joy, and love are pervasive and that BIPOC people are represented and heard. Her leadership helps inspire and transform individuals, families, and our whole community to work towards a better world.
Thank you, Elizabeth, for your leadership at OAR and in the Arlington community.
LCE's Leadership Arlington program transforms highly motivated individuals into a network of leaders committed to the community. It is designed for experienced leaders who want to increase their impact on their organization and their community.

Applications for the Leadership Arlington Class of 2023 will open in early 2022.