Encore Stage & Studio and the Leadership Center for Excellence to Host a Special Presentation of Flip the Script: The Day Nothing Happened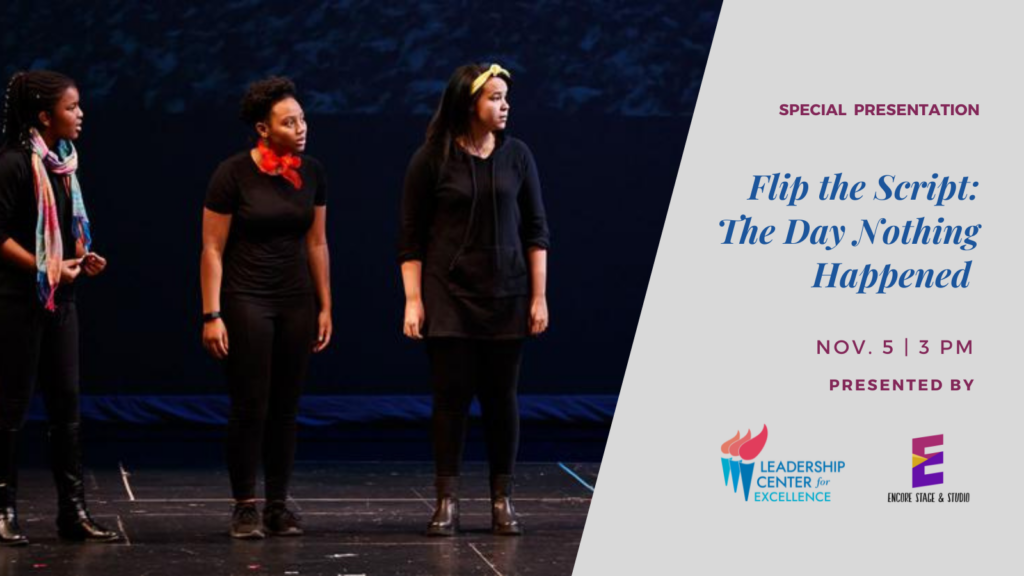 Arlington, VA – Encore Stage & Studio and the Leadership Center for Excellence are hosting a special presentation of Flip the Script: The Day Nothing Happened on Saturday, November 5, 2022, at 3 p.m. at Thomas Jefferson Community Theatre (125 S. Old Glebe Rd. Arlington, VA 22204).
The family-friendly performance explores the 1959 desegregation of Arlington's Stratford Junior High School. In February of that year, four African-American students bravely walked through its doors, making Stratford the first public secondary school in Virginia to be desegregated following the landmark Brown v. Board of Education Supreme Court ruling. Encore's 30-minute production, written by local middle and high school students, explores the emotional landscape of school integration and its resonance today. Following the performance, there will be a Q&A session with the cast and a conversation about creating positive change in our community. This is an opportunity for people of all ages and walks of life to come together to build bridges of understanding in Arlington.
"Encore's Flip the Script program is a unique opportunity for students to discover community history and interpret it through the lens of theatre. Through research, interviews, and site visits, Encore students learned about Arlington's rich history and wrote a completely original play," said Sara Duke, Executive Director of Encore Stage & Studio. "Theatre is an opportunity to strengthen our empathy and understanding of our community."
"We are pleased to partner with Encore Stage & Studio on this special performance that will offer community members of all ages an opportunity to experience an important part of our local history," said Lisa Fikes, President & CEO of the Leadership Center for Excellence. "After listening to the voices and stories, we look forward to hosting a community conversation, allowing space to process the piece and discuss the importance of racial equity."
General admission tickets are $15 for adults and $12 for children. All proceeds will benefit Encore's outreach and scholarships. Tickets are available online at encorestage.org.
This performance is supported by Amazon, Arlington Arts, and Virginia Humanities.
About Encore Stage & Studio
"Theatre by Kids, for Kids!" Founded in 1967, Encore Stage & Studio inspires young people to develop the creativity, empathy, and confidence they need to create meaningful connections with peers and have a positive impact in their communities. Encore is committed to promoting inclusion and equitable access to all of its programs. We believe that an artistic community is enhanced through diversity. encorestage.org
Media Contact
Aileen Christian
Director of Marketing and Design
Encore Stage & Studio
(703) 548-1154
aileen.christian@encorestage.org
About Leadership Center for Excellence
The mission of the Leadership Center for Excellence is to connect, develop, and inspire leaders for personal growth, civic engagement, and community impact. For more information, visit leadercenter.org or call (703) 528-2522.
Media Contact
Jennifer Roeder
Communications Consultant
Leadership Center for Excellence
(703) 528-2522
jroeder@leadercenter.org