We were excited to announce at our Convocation Event on September 13, 2019 that LCE's Board of Regents recently voted to discontinue our paid membership program. Going forward, LCE will be fully devoted to serving the community. We are proud to be the first and only leadership program to step away from requiring annual dues. We will recognize our program alumni with a full spectrum of alumni events and programs, as well as special pricing on our popular public events.
Alumni know best our programs' impact and the value of experiencing them with people from different backgrounds and unique perspectives. Therefore, we ask our alumni to not only nominate people they encounter throughout the community who could add to the richness of our programs, but also to support LCE's scholarship fund so resources are available to everyone with financial need. By working together, we can bring more voices to the leadership table, accelerating community change and improving lives.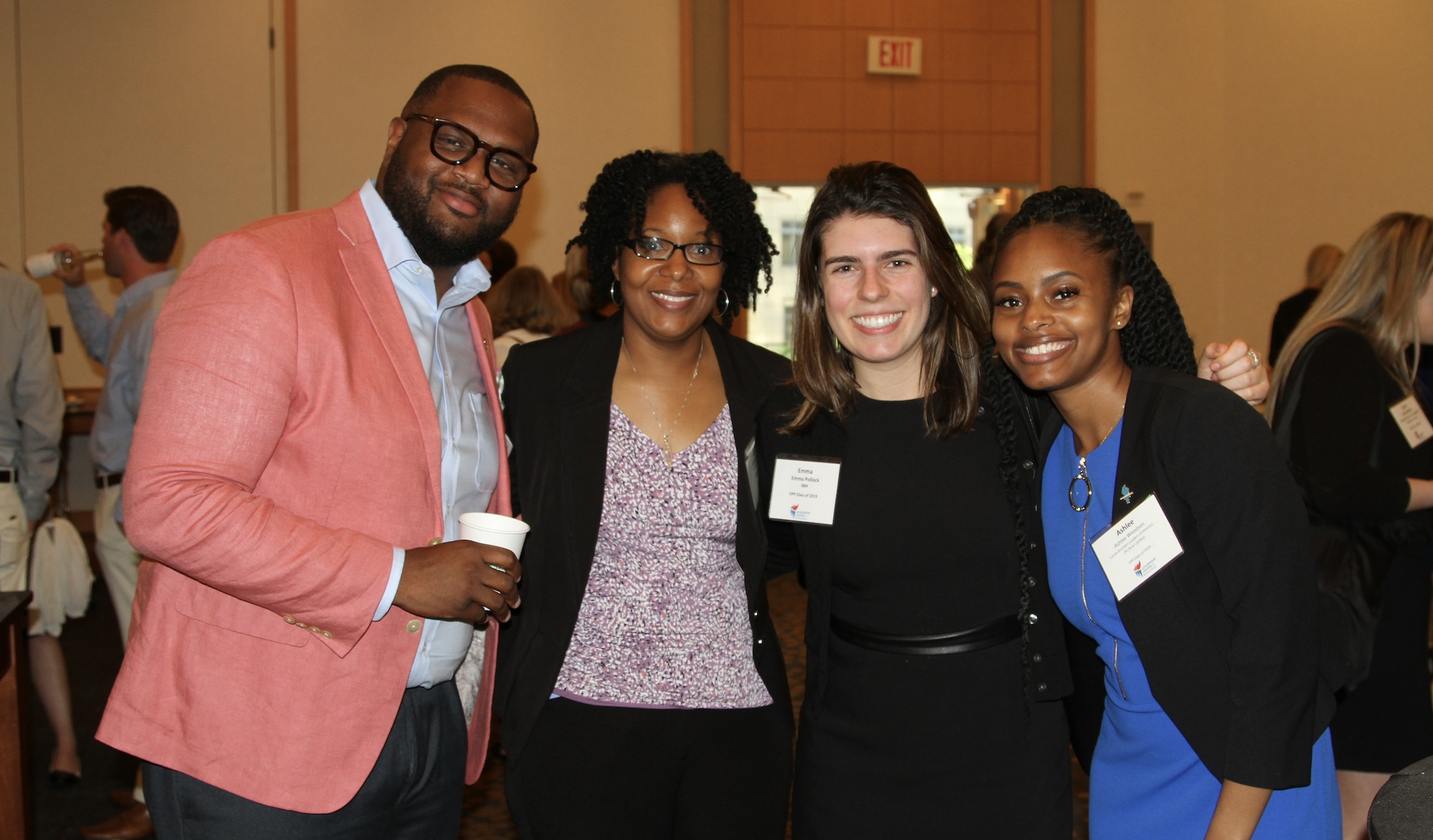 Calling all Leadership Arlington and Ignite Young Professional alumni! Join us on October 21 from 5:00 – 6:30 p.m. to re-connect with other alumni, learn about the Leadership Center of Excellence's upcoming initiatives, and meet the Leadership Arlington Class of 2022! Tickets are $35. We are excited to once again gather in-person at Marymount University's Ballston Center (1000 N. Glebe Road), and toast the Leadership Class of 22!
After 22 years, the Leadership Center counts many of today's elected and law enforcement officials, education directors, non-profit groundbreakers, and influential business leaders among its alumni. Below are the leaders who have participated in our programs.
Leadership Arlington Class of 2021
Patrick Algyer
Richard Archambault
Meghan Capozzoli
Jamie Dineen
Maurine Fanguy
Marta Gray
Brittany Greer
Nick Gregorios
Gautam Gupta
John Kaufhold
Zak Mahshie
Lindsey McClenathan
J.P. McMichael
Brooke Oberwetter
Matt Owens
Gregory Potts
James Priestas
Mike Proctor
Chris Pryor
Amy Schindler
Leigh Tannehill
Patricia Tatro
Telly Tucker
Brad Ward
Tiffanye Wesley
Cicely Whitfield
Zakiya Worthey
Leadership Arlington Class of 2020
Bismah Ahmed
Meredith Anderson
John Bayliss
Renata Briggman
Layla Brown
Carol Chin
Valerie Colimon
Steven Cooper
Jeff Davis
Melody Dickerson
Chelsi Dildine
Brian Drzewiecki
Juanita Ferguson
Lori Fischler
Natalie Foley
Gretchen Foster
Katherine Froeb
Emily Gage
Matt Haas
Sheila Heaphy
Caitlin Hutchison
Adam Krischer
Chitra Kumar
Chad Larson
Milagros Martinez
Brad McNiff
Aruna Minhas
Brian Moore
Anthony Murdock
Nancy Nowalk
Jenna O'Steen
Silas Pace
James Page
Scott Pedowitz
David Povlitz
Reza Rafi
Beth Rhyne
Natalie Roisman
Mustafa Saboor
Stephen Saunders
Eric Schaefer
Jenny Schultz
Stephanie Shea
Rich Sobonya
Jen Sovada
Melissa Thierry
Jennifer Toussaint
Bronwyn Towle
Rebecca Webb
Peter Weilenmann
Matthew Whitaker
Leadership Arlington Class of 2019
Ms. Carlin Anderson
Mr. Rashad Badr
Ms. Shannon Bailey
Bo Bennett
Ms. Nicole Billman
Ms. Nigeria Bloczynski
Lauren Cates
Stacy Cook
Jay Corbalis
Ms. Karen Daniel
Susan Davidson
Ms. Jill Deering
Ms. Debbie Diffee
Max Donley
Lisa Fikes
Ms. Mary Goldsmith
Mr. Eric Gordon
Dr. J. Michael Griffin
Ms. Shaelynn Hales
Betsy Howell
Mrs. Katie Jefcoat
Mrs. Tara Johnson
Mrs. Larysa Kautz
Mr. Jareb Ketay
Kris Krider
Mr. Pat Kumashiro
Ms. Carol Limburg
Ms. Rupal Lamorena
Melissa Logsdon
Amy Lorenz
Ms. Karen Maples
Jennifer McDermott
Melissa McMahon
Kathy Mimberg
Mike Mistretta
Mr. Scott Reamy
Ramon Reyes
Ms. Noemi Riveira
Julie Rosenberg
Ms. Kim Rucker
Erica Russell
Ms. Christine Sanders
Mrs. La Donna Simon
Reverend Amy Slater
Mona Thomas
James Wade, Jr.
Dr. Steve Ward
Mr. Rob Wiersberg
Mr. Sam Wolbert
Leadership Arlington Class of 2018
Ms. Pratibha Agarwal
Ms. Ayana Bellamy
Christine Bond
Ms. Angela Bovier
David Bowers
Kathleen Branch
Mr. Scott Brideau
Dr. Thomas Broughan
Dr. Denise Bruner
Ms. Wendy Chan
Tara Claeys
Christina Clark
Mrs. Jewelyn Cosgrove
Emily Craig
Dr. Karyn Ewart
Tina Fox
Ms. Cathy Fritts
Mrs. Michelle Gentry
Renée Gentry
Ms. Grace Greenan
Mr. Carroll Hebron, Jr.
Mike Howard
Mr. Drew Jenkins
Cheryl Johnson
Ms. Joan Kelsch
Wais Khairzada
Ms. Holly Koons
Mr. Patrick Kunze
Mr. Evan Lacopo
Kurt Larrick
Erin McKenney
Lourdes Morales
Ms. Beth Offenbacker
Ms. Catherine Roper
Cherie Rosenblum
William Roske
Danielle Schefer
Dr. Julie Shedd
Col. Joseph Simonelli, Jr.
Mr. Chris Smith
Lauren Stienstra
Mrs. Jeanette Tervonen
Ms. Candace Vanderwater
Carter Waddell
Diana Waller
Mrs. Dawn Wilson
Ms. Ginny Wright
Lynne Wright
Steve Yeatman
Leadership Arlington Class of 2017
Ms. Jenna Adams
Ms. Louise Anderson
Ms. Mary Beth Pelosky
Ms. Janetta Brewer
Ms. Ari Brose
Mr. Mark Buchholz
Ms. Bernadette Costello
Mr. Tim Denning
Mr. Bill Dunn
Ms. Caroline Espree
Mr. Will Flagler, Jr.
Ms. Maura Fredericks
Ms. Doris Gantos
Mr. Arthur Ginsberg
Ms. Lynne Goldberg
Mr. Andy Hakes
Mr. Ben Harris
Ms. Liza Hodskins
Ms. Therese Howe
Ms. Leigh Hurley
Ms. Pam Kane
Ms. Carly Kelly
Mr. Sam Kelly, Jr.
Ms. Molly Ketcham
Mr. Patrick King
Mr. Shawn Kyle
Ms. Lisa Leibel
Ms. Janet Marsh
Dr. Katherine McGrady
Ms. Gwendolyn McQueeney
Ms. Shandra Niswander
Mr. David Peete, Jr.
Mr. Darryl Poston
Ms. Lynda Ramirez-Blust
Ms. Cheryl Ramp
Mr. Michael Sauri
Ms. Lynn Sawyer
Ms. Elaine Steele
Battalion Chief Steven Vitalie
Mrs. Katie Stewart
Mr. Nick Stone
Ms. Melissa Strano
Ms. Denise Sughrue
Ms. Tannia Talento
Mr. Matthew Treadgold
Mr. Anthony Verdi, Jr.
Ms. Tagrid Wahba
Mr. Glenn Wait
Ms. Nancy White
Mr. Jim Wilmot
Mr. Tim Winter
Mr. Travis Wright
Mr. Danny Zito
Leadership Arlington Class of 2016
Ms. Jessica Adams
Ms. Shagufta Ahmed
Mr. Jimmie Barrett
Ms. Barbara Blauhut
Chief Jim Bonzano
Ms. Genevieve Concannon
Ms. Lucia Cortes
Ms. Kelly Eichhorn
Ms. Kristen Freitas
Mr. Derek Gallardo
Ms. Jennifer Galloway
Mr. Adryann Glenn
Mr. Spencer Hardney
Reverend Sarah Harrison-McQueen
Mr. Marcus Henderson
Ms. Christine Hopkins
Ms. Laura Jackson
Mr. Cy Kouhestani
Mr. Dave Krause
Ms. Dina Land
Ms. Kristanne Littlefield
Ms. Lola Lombard
Ms. Ami Lynch
Mr. Duncan Lyons
Ms. Meredith Marshall
Ms. Jeanne Matthews
Mr. James Meenan
Ms. Heather O'Malley
Mr. Justin Oliver
Mr. Robb Parker
Mr. Joe Petty
Ms. Lynne Porfiri
Mrs. Evelyn Powers
Ms. Heather Pritchett
Ms. Meg Rapelye
Mr. Saul Reyes
Mr. Chris Rinehimer
Ms. Deborah Schule
Mr. Sean Skulley
Mr. Matt Smith
Mr. Chris Sundlof
Ms. Annie Sweeney
Ms. Lucy Theilheimer
Ms. Kristen Vaughan
Mr. Mark Viani
Mr. Tito Vilchez
Mr. Lionel White
Mr. Kedrick Whitmore
Mr. James Wynn
Ms. Kristin Young
Leadership Arlington Class of 2015
Ms. Kate Bates
Ms. Colette Bounet
Ms. Carolyn Carlson
Ms. Nalani Cates
Ms. Susan Cherney
Ms. Linda Cogburn
Mr. Craig Cressman
Mr. Matt de Ferranti
Mr. Hugo Delgado
Ms. Donna Fleming Cuviello
Mr. Andy Fuhrmann
Ms. Jade Gong
Ms. Donna Hamaker
Ms. Jen Harris
Mr. Tim Hawkins
Ms. Shari Henry
Mr. Merrick Hoben
Ms. Claudia Hogle
Ms. Cameron Hutchings
Mr. Michael Jewth
Mr. Christian Lapham
Mr. Jonathan Lee
Mr. Robert Martinson
Dr. Cindy May
Ms. Jennifer Mulchandani
Ms. Jen Mullett
Ms. Koube Ngaaje
Ms. Rosie O'Neil
Ms. Kim Plaugher
Mr. John Pulley
Mr. Omar Quintero
Mr. Rick Reinsch, III
Ms. Lucinda Robb
Mr. David Rowley
Ms. Jane Rudolph
Mr. Steve Simmons
Mr. Russ Snyder
Mr. Gene St. Clair
Ms. Katy Steinbruck
Mr. Richard Stephenson
Ms. Pantea Stevenson
Dr. Lois Stover
Mr. Rick Strobach
Mr. Johnathan Thomas
Ms. Marjorie Varner
Mr. Lauck Walton
Ms. Michele Werner
Ms. Kristine Wood
Ms. Sheila Yosufy
Lieutenant Wanda Younger
Mr. Chris Zinner
Leadership Arlington Class of 2014
Ms. Renee Aldrich
Mr. Syed Ali
Ms. Toni Andrews
Ms. Nyambo Anuluoha
Mr. George Bailey
Ms. Sue Bell
Ms. Sheila Berry
Mr. Bruce Black
Ms. Lynn Borton
Ms. Ginger Brown
Ms. Dulce Carrillo
Mr. Chris Clark
Ms. Shirah Cohen
Mr. Don Cole
Mr. Roy Croom
Mr. Jeff DiLisi
Ms. Sara Duke
Mr. Henry Dunbar
Mr. Charlly Enroth
Mr. Dan Fitch
Ms. Kathy Fong
Ms. Jane Franklin
Mr. Michael Garcia
Ms. Shelley Goode
Ms. Kate Graham
Mr. Tom Grantham
Ms. Hope Halleck
Mr. Greg Hamilton
Ms. Gretchen Kearney
Ms. Clare Klanderman
Mr. Brian Krause
Mr. Todd McNamara
Mr. Scott Miller
Ms. Susan Mudry
Mr. Scott Nycum
Ms. Cara O'Donnell
Ms. Atima Omara-Alwala
Mr. Mitch Opalski
Captain Adrienne Quigley
Ms. Fran Reed
Mr. David Remick
Mrs. Whitney Richardson
Mr. Jan-Michael Sacharko
Dr. Matt Shank
Ms. Celia Slater
Ms. Elaine Turville
Mr. Cito Vanegas
Mr. Chris Wargo
Mr. Justin Wilt
Ms. JoAnne Yoss
Leadership Arlington Class of 2013
Ms. Eneida Alcalde
Ms. Gail Arnall
Mr. Andy Bacas
Mr. Ken Bass
Mr. Chris Bavolack
Mr. David Boling
Mr. Chris Cardinale
Mr. Simon Carney
Mr. Matt Cornelius
Mr. Dave Dailey
Ms. Sharon Dorsey
Ms. LaShawn Fisher
Ms. Arianna Gleckel
Mr. Enoch Godbolt
Mr. Paul Holland
Mr. David Isaacson
Ms. September Jones
Ms. Ellen Kennedy
Ms. Yulia Kriskovets
Mr. Will Landreth
Ms. Tina Leone
Ms. Jamie Miller
Ms. Coralie Miller
Ms. Lyda Mitchell
Mr. Andy Moore
Mr. John Morrill
Ms. Susan Olson
Mr. Jose Ortiz
Mr. Dennis Peredo
Mr. Dave Peterson
Mr. Jim Ponder
Mr. Terance Proctor, Sr.
Ms. Sandra Redmore
Mr. Lindsey Rheaume
Mr. Mike Richardson
Ms. Karen Rosales
Dr. Lori Scher
Ms. Elisabeth Schmidt
Mr. Omar Sider
Ms. Susan Soroko
Ms. Julia Stephens
Mr. Terrance Toussaint
Ms. Jhaymee Tynan
Ms. Mary Van Dyke
Ms. Lisa Van Wagner
Ms. Darlene Vrotsos
Mr. David Wilmes
Mr. Chris Worden
Mr. Kevin Yam
Leadership Arlington Class of 2012
Mr. Antonio Acevedo
Ms. Le-Ha Anderson
Ms. Lorig Armenian
Ms. Darlene Bakke
Mr. Brandon Barg
Ms. Melanie Barton
Ms. Christina Biebesheimer
Ms. Meghan Biggs
Mr. Daniel Blumenthal
Ms. Laurie Brown
Ms. Jenn Burnside
Dr. Tracy Bushkoff
Mr. George Cabalu
Mr. Leonard Chari
Ms. Sally Cook
Ms. Lauren Cranman
Mr. Linc Cummings
Reverend Kathy Dwyer
Mr. Greg Emanuel
Mr. Peter Evans
Ms. Allison Foster
Ms. Anita Friedman
Ms. Evelyn Gee
Ms. Hayley Gefell
Mr. Chris Gordon
Ms. Elenor Hodges
Mr. Alan Howze
Ms. Melissa Impastato
Ms. Dona King
Ms. Amy Maclosky
Ms. Ricki Marion
Mr. Tom O'Neil, Jr.
Ms. Linh Ong
Ms. Jessica Panfil
Ms. Lisa Scala
Ms. Carol Schadelbauer
Ms. Tara Smith
Mr. Ron Somervell
Mr. Neil Trent
Mr. Richard Tucker
Mr. Colin Uckert
Mr. Erik Van de Poll
Mr. Andy Vanhorn
Ms. Leah Wallace
Mr. John Warren
Ms. Jacolyn Wetmore
Ms. Ann Wilson
Leadership Arlington Class of 2011
Ms. Annette Allgood
Mr. Ajit Arya
Mr. Jim Balick
Ms. Vicky Bandalo
Mr. David Barkley
Ms. Gladis Bourdouane
Ms. Lee Carrigan
Ms. Linda Chandler
Reverend Sharon Core
Ms. Michelle Cowan
Ms. Alissa Curry Briggs
Mr. Chris Devers
Ms. Mary Ellen Payne
Ms. Allison Erdle
Mr. Bill Fogarty
Mr. Tom Fonseca
Mr. Edwin Fountain
Ms. Claire Goodwin
Mr. Peter Griffin
Ms. Nicole Houston
Ms. Pamela Kahn
Ms. Jody Kelly
Mr. Tom Klanderman
Ms. Kimberly Lane
Mr. Mikael Manoukian
Ms. Erica McCants
Mr. Charlie Meng
Ms. Hannah Moore
Mr. Chris O'Brien
Ms. Pam O'Bryant
Mr. Garrett O'Shea
Mr. Daniel Purrington
Ms. Susan Reardon
Ms. Bonnie Regan
Mr. John Reiter
Reverend Carolyn Richar
Mr. Dave Richardson
Ms. Debora Richert
Ms. Amy Rozier
Dean Jim Ryerson
Mr. Andrew Schneider
Ms. Grace Shea
Ms. Kelly Shooshan
Ms. Kristy Snowden
Mr. Dave Terry
Ms. Amy Tenhouse
Mr. Ray Warren
Leadership Arlington Class of 2010
Ms. Susan Anderson
Ms. Mary Ann Hodges
Mr. Jim Arnold
Ms. Karen Bate
Ms. Linda Bethel
Ms. Glenda Blake
Ms. Sandy Burkholder
Ms. Emily Cassell
Ms. Maureen Caughran
Ms. Jan Day Gravel
Mr. Alan Dorn
Mr. Steve Dougherty
Ms. Sally Duran
Ms. Liz Harr
Ms. Pam Holcomb
Mr. Rick Holliday
Delegate Pat Hope
Dr. Sherri Hughes
Ms. Claire Huschle
Ms. Krysta Jones
Mr. Takis Karantonis
Paul Larson
Mr. Tad Lunger
Mr. Bill Maher
Mr. Rob Mandle
Ms. Kate Marshall
Ms. Erin Mendenhall
Mr. Mike Mesmer
Ms. Kamara Napper
Mr. Ware Palmer
Ms. Courtney Reeve
Ms. Cindy Richmond
Mr. Steve Rubloff
Ms. Tara Russo
Ms. Kenwyn Schaffner
Ms. Ginna Schneider
Mr. Scott Seaton
Ms. Gerry Shannon
Ms. Kathy Sibert
Mr. Brian Steffan
Ms. Tiffany Townsend
Leadership Arlington Class of 2009
Ms. Pamela Benoit
Mr. Ted Bilich
Mr. Jack Brown
Mr. Dave Burds
Mr. Dan Callahan
Mr. David Cristeal
Ms. Ruth Dyster
Mr. Mark Fedorchak
Mr. Richard Golinowski
Mr. Marc Greenberg
Mr. Erik Gutshall
Ms. Suzanne Jackson
Ms. Deborah Johnson
Ms. Elizabeth Jones Valderrama
Mr. Stan Koussis
Ms. Erica Kraus
Mr. Dan Laredo
Mr. Gary Leff
Mr. Bob McCoy
Ms. Maria Meredith
Reverend Andrew Merrow
Ms. Pam Michell
Ms. Tracy Miller
Ms. Colleen Morgan
Ms. Joy Myers
Captain Michelle Nuneville
Ms. Wanda Pierce
Ms. Sue Pyatt
Chief Joe Reshetar
Mr. Frank Rizzo
Mr. Brian Scull
Ms. Jennifer Smith
Ms. Dawn Smith
Mr. Jon Taillon
Ms. Judy Vaughn
Leadership Arlington Class of 2008
Ms. Tamara Ashford
Mr. Ken Aughenbaugh
Ms. Kelli Beavers
Ms. Lucy Bowen McCauley
Mr. Jerry Caputo
Ms. Pat Carroll
Ms. Tonya Chapman
Ms. Pam Collins
Mr. JR Diffee
Mr. Carl Dodson
Ms. Marykate Dougherty
Dr. Jim Egenrieder
Ms. Michele Fantt- Harris
Ms. Angie Fox
Ms. Suzanne Grant
Mr. Nader Hasan
Ms. Joyce Hollander Kyle
Bob Kenney
Mr. Ralph Kidder
Mr. David Kidwell
Ms. Courtney Kissell
Ms. Carolyn McCornac
Ms. Margaret McKeough
Mr. Hunter Moore
Mr. Rob Morris
Ms. Paula Potts
Ms. Vicki Price
Ms. Tricia Rodgers
Mr. Allen Schirmer
Mr. Mark Schwartz
Mr. Jim Sherrick
Mr. Adrian Stanton
Mr. Reuben Varghese
Ms. Maria Voultsides
Ms. Susan Wallace
Ms. Betsey Wildhack
Ms. Judy Yoder
Leadership Arlington Class of 2007
Mr. Doug Brammer
Ms. Patty Browne
Mr. Bob Bushkoff
Ms. Sheridan Collins
Ms. Susie Doyel
Mr. Chris Dour
Ms. Kim Durand
Ms. Shannon Flanagan-Watson
Ms. Mary Beth Giblin
Mr. Mike Goodrich
Mr. Bob Gray
Ms. Tara Hamilton
Ms. Kim Klingler
Mr. Nick Macri
Ms. Inta Malis
Ms. Julie Mangis
Ms. Anne McAllister
Ms. Greta Menard
Ms. Penne Nelson
Ms. Penny Newquist
Ms. Paula Pettavino
Ms. Katharine Powell
Mr. Rick Leeds
Ms. Cheryl Robinson
Mr. Eric Segarra
Ms. Amy Falk Sheldon
Ms. Robin Bryson Talmadge
Mr. Dinesh Tiwari
Mr. Krishna Vallabhaneni
Mr. Tim Wallace
Mr. Jim Whelan
Leadership Arlington Class of 2006
Ms. Anne Biedscheid
Dr. Gene Brown
Ms. Barbara Bush
Ms. Sandy Bushue
Mr. Ken Chandler
Ms. Kim Clarke
Mr. Christopher David
Ms. Alison Denton
Mr. Joe DePhillips
Ms. Cecelia Espenoza
Dr. Danine Fresch
Ms. Rosie Gordon Mochizuki
Ms. Linda Grove
Mr. Dave Hill
Mr. Tim Hughes
Battalion Chief Doug Insley
Ms. Sara Jaffe
Ms. Carol Loftur-Thun
Mr. Matt Martin
Ms. Debbie Mayberry
Ms. Kathryn McCarty
Mr. Carlton Miller
Ms. Gail Raiman
Mr. Scott Sabitus
Ms. Odile Saddi
Ms. Didi Salmon
Ms. Patti Sanner
Ms. Terry Savela
Mr. Sean Hosty
Ms. Jackie Steven
Ms. Karen Vasquez
Mr. Dennis Webb
Mr. Bobby Wright
Leadership Arlington Class of 2005
Mr. Tim Aldinger
Ms. Ann Bisson
Deputy Ben Barksdale
Mr. Jack belcher
Ms. Leslie Berkowitz
Mr. Moe Briggs
Mr. Bob Causebrook
Ms. Toni Copeland
Dr. Chris Domes
Mr. David Evinger
Ms. Marcy Foster
Ms. Loretta Franklin
Mr. Carlton Freese
Ms. Judy Hijikata
Mr. Christian Hoff
Ms. Fernanda Howard
Ms. Donna Huff
Mr. Todd Ihrig
Mr. Eugene Iwanciw
Mr. Dan Kohlhepp
Mr. Bob McDowell
Ms. Robin Norman
Ms. Marie Schuler
Ms. Carol Singer
Ms. Lynda Slye
Ms. Naomi Smouha
Ms. Diana Sun
Mr. John Welsh
Ms. Pat Williamson
Ms. Sindy Yeh
Leadership Arlington Class of 2004
Ms. Karen Albert
Ms. Kathryn Badger
Mr. Steve Barto
Col. Rudy Burwell
Mr. Michael Canzian
Mr. Phil Caughran
Mr. Aneesh Chopra
Mr. Matt Crupi
Mr. David DeCamp
Mr. Jeff DiGregorio
Ms. Susanne Eisner
Ms. Jennifer Endo
Chief Jay Farr
Ms. Janie Guthrie
Ms. Cintia Johnson
Mr. Ted Johnson
Mr. Joe Klem
Ms. Linda Kelleher
Ms. Carol Lopez-Bethel
Ms. Pat McDermott
Ms. Kathleen McEnerny
Ms. Elizabeth McMillan
Mr. Jeff Moore
Mr. John Moore
Mr. Jerry Morris
Ms. Nancy Opsut
Ms. Kelly Rindfusz
Mr. Jim Schroeder
Mr. Bob Stump
Ms. Brenda Turner
Mr. John White
Ms. Joyce Wilson
Leadership Arlington Class of 2003
Mr. Kent Adams
Ms. Marsha Allgeier
Ms. Blanche Anderson
Ms. Margaret Bishop
Mr. Lyles Carr
Mr. Michael Cooper
Ms. Patti Donnelly
Mr. Rob Farr
Mr. Roy Gamse
Mr. Ron Hargreaves
Ms. Marjorie Hobart
Ms. Susan Ingraham Bell
Mr. Dave Ives
Mr. Fred Jaffke
Ms. Nina Janopaul
Ms. Lynn Keefe
Ms. Vicki Kirkbride
Mr. Mike Malone
Ms. Nancy Mercer
Ms. Tara Miles
Ms. Cathy Morris
Ms. Chris Nixon
Ms. Tara Palacios
Ms. Leslie Parker
Ms. Bonnie Pfoutz
Mr. Greg Rockwell
Mr. James Scampavia
Ms. Liz Scheffler
Ms. Cynthia Smith
Mr. Steve Smith
Ms. Kitty Stevenson
Mr. Mark Troppe
Mr. Andres Tobar
Mr. Paul Weinschenk
Mr. Jim Whittaker
Leadership Arlington Class of 2002
Mr. Randy Anderson
Mr. John Benton
Ms. Catherine Bucknam
Mr. Jeff Burnham
Ms. Paulette Cross
Ms. Linda Erdos
Mr. Tom Fairchild
Ms. Tyna Gaylor
Dr. Drue Shropshire Guy
Ms. Margo Horner
Ms. Jennifer Ives
Ms. Sonia Johnston
Ms. Mary Ann Klimas
Ms. Susan McCarthy
Mr. Don McCully
Mrs. Colleen Morretta
Ms. Barbara Nicastro
Mr. Douglas Peterson
Major Mike Pinson
Ms. Sonia Quinonez
Ms. Kim Sanz
Chief Jim Schwartz
The Honorable Theo Stamos
Ms. Sandy Sweitzer
Mr. Mark Treadaway
Mr. David Treworgy
Mr. Chris Wilkes
Leadership Arlington Class of 2001
Sheriff Beth Arthur
Ms. Jane Ashley
Mr. Carl Bahnlein
Mr. Terry Bellamy
Mr. Chris Browne
Ms. Jeanne Broyhill
Mr. Christian Dorsey
Mr. Brian Frickie
Mr. Ron Gordon
Dr. Leonard Hamlin, Sr.
Mr. Dean Klein
Ms. Laura Lazour
Mr. Paul LeValley
Mr. Upen Malani
Ms. Cynthia Martin
Mr. Scott McGeary
Mr. Nathan Monell
The Honorable Ingrid Morroy
Ms. Diane Reed
Mr. Tim Reese
Mr. Scott Ritter
Ms. Robin Robertson
Ms. Margaret Stephens-Reed
Mr. Gordon Thrall
Mr. Raul Torres
Ms. Alyona Ushe
Mr. Robert Velasco
Leadership Arlington Class of 2000
Ms. Ana Maria Alfaro
Mr. Jim Bennett
Mr. Bill Brakefield
Ms. Debra Byrd
Ms. Cecilia Cassidy
Mr. Ned Christensen
Mr. Jim Cole
Ms. Andi Cullins
Mr. Michael Foster
Ms. Connie Francis
Ms. Charlotte Franklin
Ms. Leni Gonzalez
Ms. Jill Gruver
Ms. Susan Hargreaves
Mr. Parker Harrington
Mr. Bob Hawthorne
Ms. Jeannie Herbert
Mr. Bob James
Mr. Shawn Kelley
Mr. Adam Kernan-Schloss
Mr. Charlie King
Mr. Tom Murphy
Ms. Ellen Rainey
Mr. Jim Schuyler
Ms. Palma Strand
Mr. Hung Tran
Mr. Dail Turner
Ms. Beth VanWinkle
Ms. Anne Vor der Bruegge
Mr. Walter Webdale
Leadership Arlington Class of 1999
Ms. Marty Almquist
Ms. Abbott Bailey
Mr. Paul Bice
David Briggs
Ms. Robin Broder
Ms. Cathy Campbell-Heroux
Ms. Lee Corey
Mr. Rich Doud
Ms. Jean Falvey
Ms. Lisa Farbstein
The Honorable Paul Ferguson
Mrs. Betsy Frantz
Ms. Vicki Greve
Ms. Naomi Klaus
Ms. Suzy Keeley
Ms. Arlene Krohmal
Mr. David Link
Mr. Jim Lull
Mr. Mark Ingrao
Mr. Don Mayer
John Murphy
Ms. Nancy Pallesen
Ms. Nora Palmatier
Ms. Debbie Powers
Reverend Steve Rorke
Ms. Lynette Sappe-Watkins
Ms. Molly Sim
Ms. Pat Skelding
Ms. Debby Taylor
Mr. Jim Thompson
IGNITE YOUNG PROFESSIONALS
Ignite Young Professionals 2021
Hannah Aloumouati
Zachary Cabot
Markita Edwards
Danyele Greenfield
Lillian Hammond
Hannah Hecht
Sozit Mohamed
Ana Nosal
Janelle Ortiz
Kim Roehl
Richard Roman
Alba Silva
Donovan Tyson
Ignite Young Professionals 2020
Emily Adams
Brittany Berger
Mercedes Campbell
Stephen Caruso
Teron Coleman
Milenka Coronel
Elizabeth Crowther
Camille DeNardo
Kwame Domfe
Siarra Foster
Brian Gilman
Jen Gurganus
Roxana Hernandez
Karley Jones
Becky Koons
Christopher Kovelman
Jocalyn Lombardi
Alex Lucas
Carolina Madinaveitia
Ravine Mangala
Felicia McCoy
Jocelyn Moratzka
Ashley Saffold
Philippe Simon
Jerry Solomon
Jessica Sorto
Jesella Zambrano
Ignite Young Professionals 2019
Ashley Adkins
Emily Adler
Katelyn Attanasio
Taylor Blunt
Michael Cahill
Mirian Campos
Nicole Casten
Victoria Coates
Justin Cole
Alejandra Cuin
Raymond Duran
Matt Ernst
Josephine Fung
Mary Hong
Olivia Jackson
Sothir Khem
Paul King
Sylvie Krause
Genesis Lazo
Shawna LeBlond
Amy Lee
Bud Martin
Carla Medina
Ryan Murphy
Joanna Oh
Nathan Pace
Kaylynn Peralta
Emma Pollock
Thais Ribeiro
Emily Riehl-Bedford
Scott Tenaglia
Lekeisha Terrell
Brian Williams
Ashlee Woodson
Ignite Young Professionals 2018
Eric Bohn
Jennifer Boyko
Miriam Brown
Jeremy Burger
Shelly Cubbage
Shoshana Engelson
Katie Farrell
Lanae Flatness
Nicole Flores
Alexandra Gavin
Brandon Hankinson
Lance Harrison
Tina Hopp
Colleen Karoliszyn
Erika Kim
Veer Kunte
Fiorella Lewis
Kamali Long
Rekha Mattennagari
Jeyanthi Mohanavelu
Andrea Nugent
Rosemarie O'Connor
Ryan Pitts
Brittany Pyle
Pat Reynolds
Marc Sabbagh
Alexandra Santiago Reyes
Aaron Seigel
Jasmine Senn
Doug Smith
Stephanie Snyder
Sarah Spalding
Alec Tausch
Jessika Thomas
Alina Tsanova
Nicole Wright
Ignite Young Professionals Fall 2017
Matt Blunt
Danielle Bush
Debbie Cordo
Kate Floyd
Melen Hagos
Tselote Hailemariam
Berkley Jenkins
William Jones
Marty Kahsar
Kelsey McCarthy
Julia Michaels
Banjo Obayomi
Maija Paegle
Cate Reich
Aisha Salazar
Malek Salem
Yasmin Serrato-Munoz
Tori Simms
Leo Yilmaz
Tiffany Young
Ignite Young Professionals Spring 2016
Uche Akobundu
Emily Almand
Victoria Bown
Scott Desmond
Laura Dietsch
Chelsea Edwards
Meredith Eisenhart
Kyle Epting
Nikki Ferraro
Reem Garada
Serena Jezior
Ling Lin
Bernie McKeever
Sawyer Mueller
Alison Nashed
Megan Pierce
Nipun Rozario
Kate Rutherford
Kate Shooltz
Tyson Stanislaus
Taylor Vaughn
Aaron Walsh
Travell Williams
Ignite Young Professionals Spring 2017
Brandon Benzin
Maria Board
Samar Brown
Kaelin Browne
Lauren Budik
Eddie Camara
George Carvajal
Michelle Clohan
Hannah Dannenfelser
Filicia Davenport
Emily Davies
Ashley Emerson
Tierra Evans
Alex Falck
Dylan Fellerman
Lauren Fookes
Sam Fox
JP Garcia
Julia Gardner
Christie Ibaraki
Agnes Kucharski
Holly LeFurge
Molly McIntosh
Stefanie Mikkalson
Taylor Neill
Davida Parson
Renee Queen
Nathaniel Root
Alicia Walker
Ned Waterfall
Ignite Young Professionals Fall 2016
Danielle Altenburg
Isabel Andrews
Tony Barr
Eliana Briceno
Lawson Craighill
Kelsey Crittenden
David Dunston
Jeffrey Ekoma
Veronica Floyd
Gresham Harkless
Evan Isaacs
Jane Kim
Chelsea Kirkland
Shania Lin
Mary Little
Jamie Maldonado
Kyle McCandless
Christa McMahon
Keleigh Neyhart
Patty O'Brien
Darrel Philpott
Juan Quiroga Tababary
Scott Reamy
Zack Spaeth
Lauren Spear
Katie Styles
Katie Sullivan
Hilda Tajalli
Serge Tare
Aaron Wajsgras
Cicely Whitfield
Ignite Young Professionals Spring 2015
Marci Anderson
Amanda Charles
Frances Grisier
Amanda Holler
Thomas Jacobi
Meghan Kelly
Linh Le
Natalia Lerner
Joshua Lewis
David Madoo
Lara Malakoff
Carla Marin
Erin Potter
Jovan Ruzic
Richard Slusher
Julianne Sobral
Janice Spearbeck
Jennifer Weber
Ignite Young Professionals Fall 2015
Tatiana Delgado
Ariana Flores
Michael Hawald
Alex Held
Amanda Herrmann
Dan Howard
Robbie Humphreys
Jeremiah Huston
Rishita Jaju
Katherine Johnson
Kate Keller
Taylor Lawch
Heather Mills
Lorraine Nwaoko
Gretchen Reinemeyer
Ron Rodriguez
Becky Schmitt
Emily Simmonds
Carla Smith
Rich Sobonya
Dan Summers
Ben White
Jonny Wilson
Andrea Woods
Kahlee Yeldell
Ignite Young Professionals Spring 2014
David Bodner
Christina Brady
Melissa Cohen
Khyat Desai-Seltzer
Chris Dobbins
Courtney Dock
Julie Ghareeb
Jen Gordon
Jasmine Gould
Ying Huang
Dan Imhoff
Ursula Kiel
Sarah Marchegiani
Antonia Miller
Tiffany Noon
Hector Ochoa
Christine Oresky
Erica Painter
Austin Perry
Sergio Rochac
Allie Rosner
Maribeth Sarnecki
Kristina Scott
Whitney Strand
Mohammed Tabibi
Steinke Whirt
Woody Wingfield
Kristen Wingrove
Emma Yourd
Ignite Young Professionals Fall 2014
Aryany Cedeno
Patricia Dingcong
Meredith Dukes
Jeanine Finch
Christopher Fong
Meredith Goldberg
Caitlin Jones
Nicole Lewis
Nancy Liao
Franny Mack
Krista Mather
Gregory Mihalek
Amanda Needham
Jennie New
Melissa O'Connor
Aileen Pangan-Christian
Scott Pedowitz
Taylor Pool
Matt Roberts
Steffi Rochford
Jhannet Sejas
Jessica Silva
Courtney Simon
Corri Sullivan
Natalie Sutherland
Meredith Westerlund
Ignite Young Professionals Spring 2013
Allison Alt
Kelsie Bathurst
Ayana Bellamy
Angela Camp
Megan Caposell
Sarah Daviau
David Davis
Stephanie Gordon
Cassie Hurley
Ifiok Inyang
Mary Johnson
Allie Krafft
Allison Lewis
Renee Mayo Pierre
Lee Anne McLarty
Brandy Michelle-Hart
Kaitlyn Mulvey
Koube Ngaaje
Melvin Reed
Kenneth Rhodes
Christine Rossini
Alejandra Santaolalla
Jackie Sims
Ashlin Smith
Grelia Steele
Amy Thomas
Darren Tully
Kristen Ulrey
Brittany Van Arkel
Leslie Welch
Cora Widmayer
Matthew Wurster
Ignite Young Professionals 2011
James Bierbower
Sarah Bowman
Sarah Casey
Kat Cheshire
Travis Cutler
Thomas Dermody
Sasa Eric
Lashawn Fisher
Timothy Funkhouser
Kirstyn Godwin
Crissy Hanner
Mary Kadlec
Carlyn Kelley
Meredith Meade
Firman Nor
Nate Robertson
Kate Roche
Juliana Thies
Justin Tirelli
Elliot Uhl
Ignite Young Professionals Fall 2013
Mike Anuszkiewicz
Lizette Avellana
Samantha Baker
Claire Berg
Jeff Clements
Nadia Conyers
Jeannine Cooper
Brett Covington
Lily Duran
Jane Esworthy
Alexa Fox
Kate Frantz
Betsy Gibson
Tim Jakubowski
Joanna Janascius
Mahsa Javid
Kammy Mann
Kelly Mathews
Kelly Matthews
Catherine Miller
Joe Onyebuchi
Kim Painter
Shawn Pendo
Gerald Pierce
Erin Ross
Cindy Rozon
Karen Sullivan
Karly Tomlin
Amanda Tompkins
Allison Tuszynski
Ashley Wilkerson
Rachael Wingfield
Ignite Young Professionals 2012
Sara Allen
Stephanie Berman
Jennifer Bodie
Julie Burgess
Christopher Caravelli
Dave Congdon
Kyle Cook
Carlton Crockett
Jordan Crouse
Cliff Cummings
Casey Etzel
Cole Fazenbaker
Michael Giles
Gina Grantham
Thomas Henry
Amy Beth Indiviglio
Patrick Ingram
April Johnson
Natalie Kent
Maxwell Kruger
Megan Lake
Cory Lipman
PJ Maierhofer Burkin
Randi Milton
Sarah Morse
Juan Navarrete
Sam Ogden
Jenna-Lyn Ryckebusch
Catherine Saadat
Joshua Sacks
Lauren Schuette
Nicole Varma
Liliana Vedia
Stephen Vu
Latrice Witcher
Justin Wortman
LEADERSHIP ARLINGTON YOUTH PROGRAM
Anjulina Abdon
Yassin Alallaq
Jose Thomas Aleman
Kate Allen
Kristen Alleyne
Galilee Ambellu
Oran Betz
Rafe Burns
Harry Cantor
Sharon Corrales
Alex Delgado
Sophia Dristas
Vale Enriquez
Brandon Escobar-Campos
Taylor Francis
Bess Golkin
Alejandra Galdo Hernandez
Audrey Hayes
Emily Huber
Adi Kambhampaty
Jasper Kerr
Jack Kumashiro
Anne Kumashiro
Evangeline MacEwen
Sosna Marshet
Gracia Melendez
Sarah Munis
Daniel Nadel
Isabella Park
Thomas Phillips
John Pius
Nathan Quintanilla
Patrick Rampton
Will Reynolds
Brendan Rindfusz
Seo-Yeon Ryu
Fatima Saleem
Zach Senkus
Maddie Sims
Carter Smith
Ra'Nya Taylor
Brooke Weiser
Alex Wiersberg
Ameila Wilbur
Noh Woldeyesus
Sophie Yoder
Brikiti Yohannes
Ingrid Alfaro
Yesenia Andrade
Griffin Bailey
Cate Barrett
Jacqueline Branch
Donna Corina
Sean Cox
Iveth Cruz Soto
Will Donley
Brendan Douthit
Esinam Fynn
Molly George
Dustin Goodwin
Delaney Greczyn
Emma Johnston
Max Lane
Luis Lopez-Leyva
Elliot Lowden
Abbey Lynch
Ricky McGolerick
Kate Meredith
Khalia Pulliam
Rebeka Rafi
Lucy Robinson
Carsten Schoer
Alex Simmons
Natalia Uro-De Leon
Cole Woods
Malate Alemu
Beza Assefa
Dalante Bell
Patrice Dour
Julia Elman
Alex Eng
Erin Foster
Jie Na Funk
Audrey Gilligan
Angie Goodman
Megan Hemstreet
Jonathan Hernandez
Julian Hinkson
Rachel Huang
Kelsey Isman
Olivia Kennett
Mia Lee
Kenny Lundgren
Jay Maddox
Tsion Mamo
Matthew McKnight
Colin Meek
Adrienne Miller
Jessie Moyer
Matt Muleta
Zach Muleta
Maya O'Brien
Quentin Powers
Cassie Rodriguez
Linh Smith
Cambria White
Jake Wiersberg
Sophia Anderson
Josette Barrans
Amanda Bloom
Lydia Boles
Reagan Briere
Karol Calvimontes
Simer Choudhary
Erin Claeys
Mary Corina
Olivia Cox
Anna DeFalco
Cate Farmer
Mathew Gonzalez
Kaiya Gordon
Mary Helsper
Tiffany Hidalgo
Bryn Kabiri
Prashanth Kallat
Nick Kampeas
Tyler LaPointe
Nino Lovo-Ochoa
Claire Morris
JP Parker
Zach Reynolds
Kathryne Schauf
Tina Schneider
Will Senkus
Claire Shea
Rebecca Smith
Haben Yohannes
Becca Bean
Anna Beatrice
Alex Brandolino
Abby Brown
Sierra Cass
Sutton Coyle
Dylan Cunningham
Colin Dorsey
Grace Elman
Vic Escarate
Caroline Fatemi
Tim Ferguson
Kurby Gebremedhin
Sam Gonson
Alex Hendel
Allison Herrity
Megan Huber
Teus Jaramillo
LeAnn Johnson
Katie Katz
Luke Kresse
Connor Lowden
Joella Newman
Mickayla Noel
Callie Randall
Noah Robertson
Jay Robinson
Timmy Walten
Morgan Walton
Rebecca Weber
Olivia Barksdale
Robert Burnham
Danny Schauf
Stephanie Semaan
Anna Bianculli
Margaret Gorman
Erin Holliday
Remy Kyle
Caroline Verrecchia
Julian Esquer-Perez
Kanika Hav
Farhad Hossain
Chris Mutty
Evan Schadelbauer
Kristin Uckert
Sean Wilson
Jake Allen
Lucas DeGraw
Maddie Donley
Ryan Huaman
Madison Ihrig
Savannah Jones
Kyle McGarry
Emily McGarry
Aastha Paneru
Andrew Paredes
Katherine Piper
Hunter Stapp
Katherine Barton
Yanglei Cato
Noah Chase
Isaias Dawit
Joe Freund
Emily Golden
Jonathan Green
Ciara Hockey
Jennifer Laredo
Stephen Lovelace
Katherine Maleckar
Carla Marino
Caroline Meek
Hannah Mesches
Jessica Neupane
Jackson Newsome
Brandon Peck
Lexi Peck
Estefani Santander
Joseph Sanz
Emma Snead
Kristen Somers
Carolina Sosa
Leah Young
Bemnat Agegnehu
David Balick
Henry Doll
Jessie Foster
Zak Gordon
Remi Greene
Ava Hall
Mora Hav
Ian Huber
Patrick Hughes-Creahan
Elise Huppert
Tyler Laredo
Elizabeth Leussing
Nora LeValley
Bobby McCray
Kirby Miller
Andrew O'Duden
Lowry Palmer
Brittany Peck
Lara Phillips
Zack Pollock
Carlos Ramos
Ben Rim
Alec Schadelbauer
Colleen Schauf
Ryan Uckert
Alex Velasquez
Christine Vincent
Katie Way
Edwin Alas
Isabel Arnold
Mya Barr
Benjamin Barsky
Emily Blagg
Emma Chaplin
Kirby Clark
Chris Clements
Layne Conley
Luke Fichter
Rim Filali
Alexandra Foster
Betsy Goodwin
Noah Habeeb
Lidia Habtezion
Laine Hamilton
Decvon Harkins
Sarah Heisey
Alex Jones
Brendan Killalea
Anna LeValley
Anabelle Martinez
Ashley Meredith
Alex Milliken
Wyatt Prominski
Morgen Scott
Simonia Sharma
Che Sheehan
Millie Smith
Julia Voight
Jason Andrade
Jessica Barahona
Thomas Bercherer
Cayden Brehaut
Cameron Cornelius
Roshan Ghimire
Milton Gonzalez
Cailyn Gray
Hana Hadzibegovic
Ian Hage
Samantha Hall
Shereen Ibrahim
Stephen Laredo
Kenneth Lovelace
Joseph McGeary
Lan-Anh Nguyen
Alexandra Norsworthy-Nelson
Thomas O'Duden
Katherine Ponds
Courtney Riley
Arati Sharma
Harrison Steen
Ian Swain
Liana Tai
Matthew Troppe
Jack Walten
Grace Ballou
Nicole Broder
Andrew Bryant
Elizabeth Burst
Rachel Carpenter
Kelsey Clark
Maria Claure-Soto
Sondai Costley
Hayley Coyle
David Diffee
Valerie Dugie
Alvaro Genie
Danyele Greenfield
Janese Jackson
Aakriti Khanal
Sydney Lee Huppert
Kierstin Moses
Clara Nice
Noa Nir
Haley Sanner
Amelia Snelling
Raissa Sorgho
Harrison Streeter
DiAnthony Talmadge
Caroline Clements
Peter Corrales
Nick Cox
Christian Desrochers
William Diffee
Mayra Gallo
Claire Hunn
Prakriti Khanal
Lydia Kidane
Patricia Lira
Helen Lovo
Danielle McKenzie
Katty Novillo
Veronica Ramos-Coreas
Evelyn Reyes
Antonia Smith
Timothy Spicier, Jr.
Charlie Townshend
William Troppe
Luis Vallejo
Kaitlin Wolla
Jaime Barr
Emily Carroll
Hiba Elnour
Caroline Frantz
Gimena Gonzelez-Pintos
Amy Hazzard
Moududa Hussain
Taslima Islam
Bradley McCabe
Isela Melendez
Jesse Phillips
Jacob Saracco
Emily Schwartz
Kalkidan Shebi
Meredith Steen
Strand Sylvester
Madelaine Torres
Bianca Vassare
Katlyn Allmon
Peter Causey
Colleen Foster
Devon Hogan
Johanna Maldonado
Michelle McKelvey
Nora Murphy
Katherine Ness
Julia Sick
Elaine Sylvester
Madelaine Torres
Lauren Wallace
Allison Walton
Stanley Woodley
Stanley Woodley
Nickie Bate
Melissa Bennett
Amanda Donahoo
Bridgit Donnelly
Katie Frantz
Janee Hawkins
Patrick Jaffke
Kathleen Kane
Raney Kim
Madeline Lalle
Jessica Logan
Julian Orlando
Molly Patrician
Shannon Peterson
Lexy Roy
Christine Stoddard
Fujiko Tamashiro-Loma
Jennifer Tran
Michael Wrobel
Victor Zhu
DMV DIVERSITY & INCLUSION INSTITUTE
DMV Diversity & Inclusion Institute 2019
Jenna Adams
Beth Arthur
David Barkley
Jeanne Broyhill
Karen Cleveland
LaDavia Drane
Jennifer Endo
Michele Fantt Harris
Nora Garrote
Zeena Hassan
Tim Hughes
Lisa Iannarino
Carolyn Jackson
Elizabeth Jones Valderrama
Claradith Landry
Stephen Leach
Jaime Matyas
Stephanie Mount
Liz Nohra
Natalie Roisman
Kevin Ruth
Betsy Sharon
Russell Snyder
Kitty Clark Stevenson
Amy Thomas
Diana Waller
Dr. Maranda Ward
40 Under 40 Honorees 2020
Tameka Brown
Nicole Cammack
Rachel Coates
Genevieve Concannon
Katie Curiel
Kelly Dalton
William Flagler
Jasmine Gould
Robert Kemp Gouldin
Mathison Hall
Megan Hare
Erik Healy
Nathaniel Hiner
Ben Hogue
Cassie Hurley
Amanda Makulec
Katie McCreary
Clarisse Mendoza Davis
Tiffani Moore
Yolanda Murphy
Maili Neverosky
Whitney Parnell
Scott Pedowitz
Tenley Peterson
LaNeil Plummer
Muthuramanan Rameswaran
Mahreen Rashid
Lorenzo Reid
Adriana Rodriguez
Xanthe Scharff
Jeff Schwab
Stephanie Seals
Robin Shultz
Sadija Smiley
Tierra Stewart
Lekeisha Terrell
Irene Walsh
Maranda Ward
Sam Wolbert
Jason Yakenchek
40 Under 40 Honorees 2019
Bismah Ahmed
Allison Alt
Lucy Beadnell
Miranda Bozeman
Clare Bresnahan English
Kendra Brown
Ryan Brown
Ashley Brush
Gillian Burgess
Benjamin Burgin
Sean Burke
Keren Charles
Kezia Charles
Thomas Gibson
Phil Harper
Alex Held
Caitlin Hutchison
Miranda Kogon
Mary Little
Andrew Malay
James Meenan
Shawn Mitchell
Laura Morder
Atima Omara
Skye Perryman
Heather Pritchett
Michael Proctor
Lauren Pryor
David Reynolds,
Kristen Riemenschneider
Emily Roberts
Vernecia Smith
David Sterling
Charles Sumpter
Fa Sy
Jeanette Tervonen
Michael Torres
Anita Wadhwani
Kiely Wilkerson
Kevin Yam
40 Under 40 Honorees 2018
Robert Blake
Wilmer Castro
Hector Cendejas
China Dickerson
Maribel Duran
Nikki Ferraro
Jennifer Fioretti
Lynsi Garvin
Amina Gilyard James
Phillip Green
Karim Guirguis
Katharine Hale
Molly Haines
Katie Hickey
Francis Homer
Megan Jordan
Alex Karkeek
Mercedes Kirkland-Doyle
Paul Kohlenberger
Patrick Kunze
Roy Lee
Nicole Lewis
Jacqueline Malkes
Molly McIntosh
Alison McNeil
Jennifer Mellon
Adele Nelson
Liz Norton
Yadira Sanchez
Michael Spotts
Aubreana Stephenson Holder
Camille Stewart
Chris Sundlof
Elinor Tesfamariam
Charles Thomas
Danielle Vogel
Andrew Watson
Zuberi Williams
Shanta Whitaker
Slavomir Zapata
40 Under 40 Honorees 2017
Margarita Benavides
Jonathan Beninson
Alexandra Bocian
Paul Bui
Nicole Callahan
Brett Cooper
Tim Denning
Traci DeShazor
Jeremy Ferrara
Jennifer Galloway
Mary Goldsmith
Ashley Hammond
Angela Kasey
David Kinney
Courtney Kissell
John Kusturiss
Anette Levano
Robert Mandle
Amanda Martin
Nathaniel Mauer
Garrett McGuire
John Meehan
Michael Mesmer
Joy Myers
Vivek Nakarmi
Kathryn Oberg
Taryn Overman
Harold Pettigrew
Meg Rapelye
Jomanda Richards
Annie Rinker
Tim Riordan
Margarita Rozenfeld
Cameron Snyder
Lauren Stovall
Lori Ann Terjesen
Darren Tully
Matisa Ullrich
Christine Wilson
Tim Winter
40 Under 40 Honorees 2016
Tom Bartlett
Jessamyn Berniker
Gabrielle Bosche'
Eric Brescia
Steven Brown
Alayna Buckner
Sheyna Burt
Emmanuel Caudillo
Charles Clancy
Danielle Craddock
Katie Cristol
Lyndsey DePalma
Kristina Dorville
Sara Duke
Beatriz Duque Long
Moley Evans
Mark Fedorchak
John Goldener
John Grant
Brodie Gregory
Julie Huang Tucker
Sara Jaffe
Jennifer Meder
Courtney Mesmer
Maureen Nesselrode
Koube Ngaaje
Kyriakos Pagonis
Shy Pahlevani
Devanshi Patel
Veronica Perez-Perea
Evan Pritchard
Courtney Reeve
Angela Rose
Jane Rudolph
Kevin Shooshan
Eugene St. Clair
Alex Tremble, Jr.
Zach Wahl
Megan Wheeler
Sheila Yosufy
40 Under 40 Honorees 2015
Salim Adofo
Nyambo Anuluoha
John Ayers
Mike Barnes
Sindy Benavides
Katherine Bianco
Scott Brodbeck
Ginger Brown
Billy Buck
Nadia Conyers
Jeffrey DiLisi
Laura Gamse
Erikka Gleckel
Scott Gold
Nick Gregorios
Chris Hamm
Julia Hamm
Sarah Hillware
Paul Holland
Jennifer Hovis
Melissa Impastato
Krysta Jones
Elizabeth Jones Valderrama
Kim Klingler
Matthew Kulkin
Dania Matos
Ann McCarty
Ron Novak
Joseph Petty
Mike Richardson
Kate Roche
Andrew Schneider
Kelly Shooshan
Marcio Silveira
Terron Sims, II
Paul Singh
Elaine Turville
Andy VanHorn
Kedrick Whitmore
Steven Yates