LEADERSHIP CENTER SCHOLARSHIP FUND
Making our programs available to every leader!
Many have noticed that even before the 2020 economic recession, Leadership Center was reducing staff, subletting our space to office virtually, and eliminating our paid membership program.  All while adding new leadership programs, like the DMV Diversity and Inclusion Institute and High School Leadership Lab, and offering free consulting services to area nonprofits.  Why? 
Because as a tuition-based 501c3 nonprofit organization, we have made the commitment to use tuition, service fees, program and event sponsorships and grants to fund our operation.  This allows our community fundraising to be exclusively devoted to making our programs as accessible as possible to members of our community.
We have reconfigured our fund development efforts to focus on making the case and raising support to provide Center scholarships for leaders from lower budget nonprofits and small businesses, as well as community leaders not affiliated with an employer who demonstrate financial need.  This not only helps individuals experience professional development they might not otherwise have access to, but even more importantly, brings their voices and lived experiences to the 'leadership table' where they can inform and impact other leaders.  If you see the current and downstream community benefits of this expansion of opportunity, please join us in supporting the Leadership Center's Scholarship Fund.
LEADERSHIP CENTER PUBLIC EVENTS
Young Professionals Care
Essentially a trade show featuring area nonprofits, this event puts attendees face to face with nonprofits who need volunteers.  Experience the breadth and depth of the community's service sector in the most efficient way possible with opportunities to get involved on the spot.  This year the event will be held at Ballston Commons, promising a robust attendance for this already successful event.  Sponsorship information available here.
40 Under 40
For the last six years, Leadership Center for Excellence, in partnership with Inside NOVA, has honored young leaders positively impacting the community through the 40 Under 40 celebration. Tickets, table purchases, and sponsorship information available here.
MLK Day of Service – January 2021
This "can't be missed" celebration of Dr. King's life was designed to help Arlington, Virginia make real his call to serve.  More than 1,000 people regularly attend this morning event followed by hands-on service projects throughout the County.  Participants sign up months in advance so they can achieve their choice of volunteer assignments.  This event has been recognized as one of the most successful of its kind in the country.  Sponsorship information available here.
Leadership Summit – Spring 2021
This year LCE celebrates the 5th Annual Leadership Summit, delivered in partnership with Leadership Fairfax, Leadership Greater Washington and Leadership Loudon.  Showcasing talented thought leaders and trainers from around the region and beyond, the 6th Annual Leadership Summit promises to deliver leadership-advancing sessions on contemporary topics that participants will find immediately actionable. 
 On Board! – TBD
If new to nonprofit board service or looking for the latest information on best practices, On Board gives attendees the answers they need to be better board members.  This interactive day - full of real-world examples of things going well and things going wrong - will leave attendees better prepared to have a positive impact on the nonprofits they serve.  The program promises to decipher the strange language of governance, demystify nonprofit fund accounting and make the Form 990 understandable.  Attendees will learn why checking insurance coverages is a must and show everyone how to participate in fundraising efforts without experiencing excessive social pain.  Good governance is critical to mission fulfillment and On Board helps board members ensure they are ready to perform.  Registration and sponsorship information available here.
Arlington Cares- July 14, 2020
Join 300+ Arlingtonians as they come together for a virtual event to celebrate volunteerism and recognize several of the community's most inspiring volunteers.  This event renews the audience's faith in the human spirit and encourages everyone to serve others. The event is free and sponsorship information is available here.
LEADERSHIP CENTER FOR EXCELLENCE PROGRAM SPONSORSHIPS
Sponsorships for programs, program days, and meals are available for the four Leadership Center for Excellence Programs. All program sponsors are recognized on-site and online. Custom sponsorship benefits are available and encouraged. Contact Karen Coltrane for more information at kcoltrane@leadercenter.org.
Leadership Arlington
Program Months – individually priced from $2,500

Overall Program – $25,000
Leadership Arlington Youth
Program Days – individually priced from $1,000

Lunch Sponsors – $500

Overall Program - $7,500
Ignite Young Professionals
Program Days – individually priced from $1,000

Lunch Sponsors – $500
DMV Diversity & Inclusion Institute
Overall Program – Sponsored by Nestle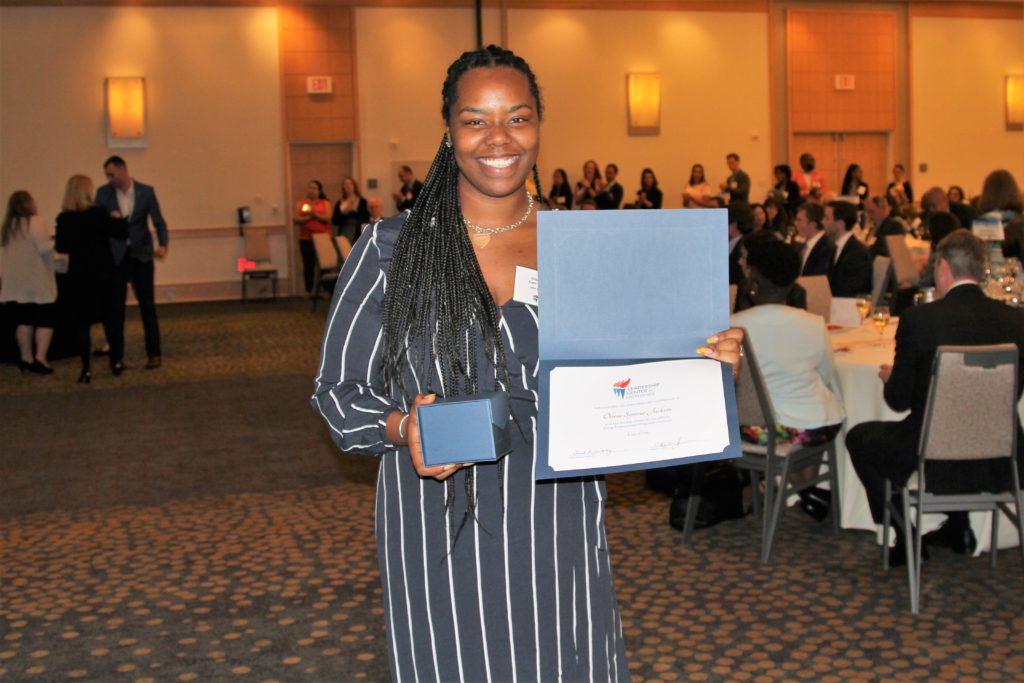 LEADERSHIP CENTER FOR EXCELLENCE DONATION OPPORTUNITIES
Leadership Center for Excellence Scholarship Fund
As a nonprofit organization, the Center relies on donations to make programs accessible to all.  All gifts to the LCE Scholarship Fund are tax deductible, as allowable by law, and are aggregated to reduce the tuition for program applicants and registrants in all four programs with demonstrated financial need.
Donors who give at a level equal to or exceeding the following amounts may designate the program they wish to support and name their scholarship for themselves or someone they wish to honor or memorialize.  Named scholarships will be published and recognized at both Convocation and Graduation in the following manner – The Jane Doe Leadership Arlington Youth Scholarship, The John Doe Ignite Young Professional Half Scholarship.  Custom acknowledgement of honorees is available and encouraged.  While scholarship donors shall be appropriately recognized and acknowledged, recipients of named scholarship funds are always given the option to remain anonymous.  Donors wishing to name an annual scholarship, or to explore creation of a permanently endowed scholarship, should contact Liz Nohra, at lnohra@leadercenter.org.
Leadership Arlington
2021 Full Scholarship - $4,900

2021 Half Scholarship - $2,450
Leadership Arlington Youth
2021 Full Scholarship - $500

2021 Half Scholarship - $250
Ignite Young Professionals
2021 Full Scholarship - $2,950

2021 Half Scholarship - $1,475
DMV Diversity and Inclusion Institute Scholarship
2020 Full Scholarship - $4,000

2020 Half Scholarship - $2,000