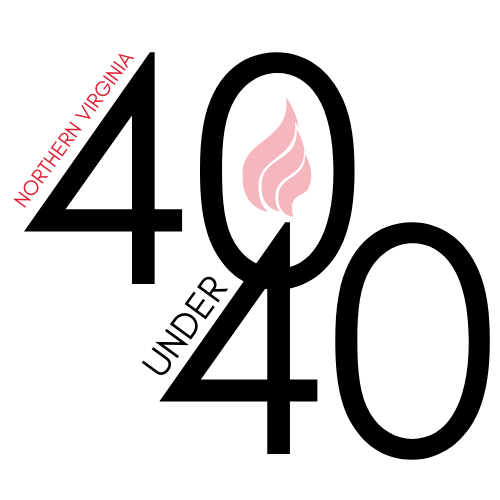 Northern Virginia 40 Under 40
Leadership Center for Excellence and Leadership Fairfax are proud to partner to recognize young leaders through the Northern Virginia 40 Under 40 program. This program celebrates emerging leaders who demonstrate exceptional and impactful leadership in their professional and personal spheres within the Northern Virginia region.
How it works
Individuals under 40 years old who are making an impact in Northern Virginia and meet the honoree criteria below are nominated by someone who works with the individual either in a professional or volunteer capacity (you may not nominate yourself). Then nominees are emailed an invitation to complete an application.
Nominations and applications are reviewed by an anonymous selection committee. The committee considers the honoree criteria, below. Selection is confidential.
After the selected honorees are notified, they prepare and submit a personal video statement on leadership (max 30 seconds), answering one of a set of questions.
The honorees are recognized at a free virtual celebration (all are welcome to attend), followed by an in-person reception (for honorees only).
Nominations and applications for 2024 honorees will open in October 2023. 
Key dates
The 2024 dates will be released soon. The 2023 dates are available below as a reference.
Thursday, January 5, 2023: Deadline for nominations.
Thursday, January 12, 2023: Deadline for applications (must be nominated first).
Tuesday, January 31, 2023: Applicants are notified (regardless of if they are selected as an honoree).
Monday, February 6, 2023: Deadline for honorees to submit a video statement (instructions to be provided directly to honorees).
Tuesday, February 7, 2023: Honorees announced.
Friday, March 24, 2023: Honorees celebrated at a virtual event (11:00 am) and in-person reception (4:30 p.m. for honorees only) where awards will be presented. Honoree attendance is expected at both events.
Any nominations received after 11:59 p.m. ET on Thursday, January 5, 2023, or applications received after 11:59 p.m. ET on Thursday, January 12, 2023, will not be considered. Self-nominations are not allowed. Applications received prior to or without a nomination will also not be considered.
Honoree criteria
Live or work in Northern Virginia (Alexandria City, Arlington County, Fairfax County, Falls Church City, Loudoun County, or Prince William County)
Under the age of 40 as of April 16, 2024
Complete nomination and application by the deadlines (listed above)
Individual demonstrates impact in Northern Virginia through (1) professional and personal achievements, (2) civic engagement, (3) personal story
Leadership Center for Excellence and Leadership Fairfax affiliation is not required.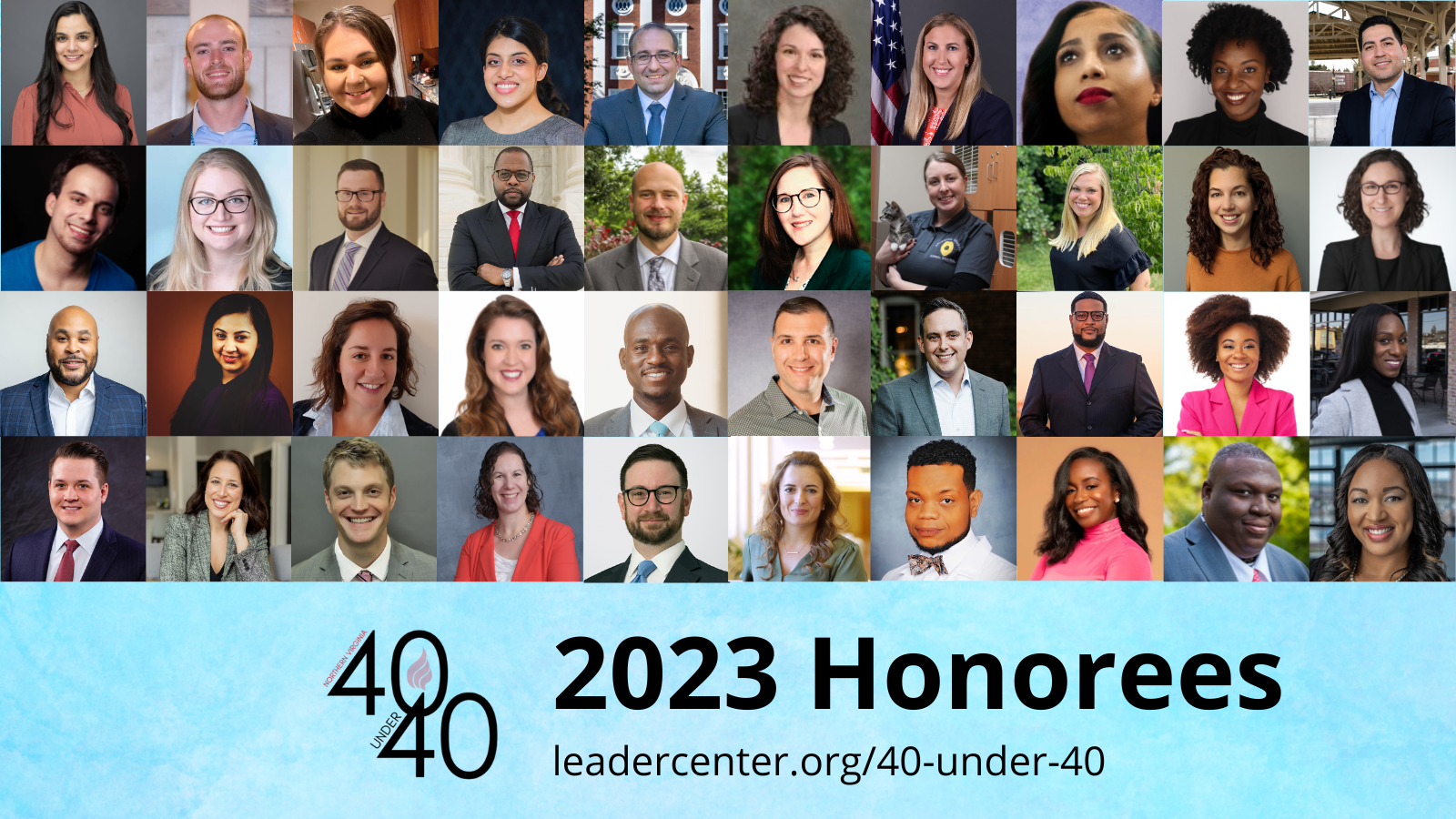 40 Under 40 Honorees 2023
Elena Agaragimova, Horizon Industries Ltd/Elena Agar LLC
Kathleen Ambroso, The Journey
Alyssa Batchelor, Office of Delegate Elizabeth Bennett-Parker, Virginia House of Delegates
Lauren Bealore, Prosperity Now
Shayna Bergman, Shayna Bergman Coaching, LLC
Adrian Chadwell, Carahsoft Technology
Michael Chiappa, Arlington Partnership for Affordable Housing (APAH)
LeVar Crooms, M&T Bank
Paul Davis, Office of Hunter Mill District Supervisor Walter Alcorn, Fairfax County Government
LaMarcus Davis, Phenom Surgical
Chelsi Dildine, Edward Jones Investments
Erika Dyer, Curley Company
Marilyn Dyess, Blake Willson Group
Jamie Ergas, Carpenter's Shelter
David Farajollahi, Dominion Energy
Mandi Fisher, Northern Virginia Family Service
Michael Forehand, Inova
Myja Gary, Zoom Video Communications
Mahwish Hamlani, Accenture
Mike Hemminger, NAACP Arlington
Stephanie Hopkins, Department of Human Services, Arlington County Government
Cara Howard, Department of Emergency Management and Security, Fairfax County Government
Arben Istrefi, CYDEO
Claradith Landry, Educators and Cultural Consultants LLC.
Jake Mages, Guernsey Inc.
Diego Mariscal, 2Gether-International
Eric Miller, Inova
Natalie Monkou, Town of Vienna
Jessica Peters, Insight Memory Care Center
Anika Rahman, Axle Informatics and Wazooks
David Schneider, Holland & Knight LLP
Genaro Stewart, Department of Defense
Jennifer Toussaint, Animal Welfare League of Arlington
Alejandra Underwood, Columbia Pike Partnership
Mawuli Vodi, Financially Present dba Growve Solutions LLC
Phyllis Weech, Inova
Kimberly Whipkey, White Ribbon Alliance
Chelsie White, Deloitte & Touche
Spencer Wood, Fairfax County Economic Development Authority
Shane Ziegler, USI Insurance Services
Honoree celebration
On Friday, March 24, 2023, we celebrated the 2023 Northern Virginia 40 Under 40 honorees in a free virtual event. Watch the recording below, or on YouTube.
Arlington Partnership for Affordable Housing
Chelsi Dildine - Edward Jones Investments
Dominion Energy
FedWriters
INOVA
40 Under 40 Honorees 2022
Read press release and watch celebration
Lizzette Arias
Amini Bonane
Miatrai Brown
Daniel Chase
Eva-Elizabeth Chisholm
Christine Dondero Bettwy
Marlon Dubuisson
Andrew Dumont
Obum Egolum
Jeanine Finch
Jess Firshein
Blaine Fitzgerald
Sharonda Futrell
Kelly Garrity
Gresham Harkless
Chris Hassett
Zuleyma Herrera
Ana Hughes
Janae Johnson
Amanda Kastl
Brian Kincaid
Sara Kreitzer
Juliana Lee
Linh Ly
Brian Marroquin
Erica McIntyre
Nicole Merlene
Travis Nembhard
Patrick Phillippi
Ellen Simon Volo
Megan Souza
Krystal Stackhouse
Grelia Steele
Cameron Thomas-Shah
Brandon Thompson
Erika Thompson
Roberta Tinch
Aaron Walsh
Philip Wilkerson
Albert Wu
Adam Balutis
Brooke Berry
Dwayne Brown
Judith Cabelli
Rachel Casey
Chantée Christian
Jordan Costen-Sumpter
Tony Craddock, Jr.
Hannah Dannenfelser
Walter English,III
Trayonna Floyd Hales
Lisa Fong
Emily Gage
Ashley Gray
Dorothy Hayden
Jordan Kivitz
Daniella Kyei
Ruba Marshood Afzal
Brendan McElroy
Isela Melendez-Carpio
Kelly Myers
Marilyn Nevy Cruz
Jenna O'Steen
Courtney Overton
Scott Reamy
Cate Reich
Adwoa Rey
Sabrina Ricks
Monica Rivera
Christopher Rushing
Adriana Schellhaas
Ujjwal Shakya
Katherine Shirey
Susan Sims
Lilian Tan
Leonard Tengco
Clarence Tong
Meghan Trossen
Jacob Tuber
Emily Ward
40 Under 40 Honorees 2019
Tameca Brown
Nicole Cammack
Rachel Coates
Genevieve Concannon
Katie Curiel
Kelly Dalton
William Flagler
Jasmine Gould
Robert Kemp Gouldin
Mathison Hall
Megan Hare
Erik Healey
Nathaniel Hiner
Ben Hogue
Cassie Hurley
Amanda Makulec
Katie McCreary
Clarisse Mendoza Davis
Tiffani Moore
Yolanda Murphy
Maili Neverosky
Whitney Parnell
Scott Pedowitz
Tenley Peterson
LaNail Plummer
Muthuramanan Rameswaran
Mahreen Rashid
Lorenzo Reid
Adriana Rodriguez
Xanthe Scharff
Jeff Schwab
Stephanie Seals
Robin Shultz
Sadija Smiley
Tierra Stewart
Lekeisha Terrell
Irene Walsh
Maranda Ward
Sam Wolbert
Jason Yakencheck
40 Under 40 Honorees 2018
Bismah Ahmed
Allison Alt
Lucy Beadnell
Miranda Bozeman
Clare Bresnahan English
Kendra Brown
Ryan Brown
Ashley Brush
Gillian Burgess
Benjamin Burgin
Sean Burke
Keren Charles
Kezia Charles
Thomas Gibson
Phil Harper
Alex Held
Caitlin Hutchison
Miranda Kogon
Mary Little
Andrew Malay
James Meenan
Shawn Mitchell
Laura Morder
Atima Omara
Skye Perryman
Heather Pritchett
Michael Proctor
Lauren Pryor
David Reynolds
Kristen Riemenschneider
Emily Roberts
Vernecia Smith
David Sterling
Charles Sumpter
Fa Sy
Jeanette Tervonen
Michael Torres
Anita Wadhwani
Kiely Wilkerson
Kevin Yam
40 Under 40 Honorees 2017
Robert Blake
Wilmer Castro
Hector Cendejas
China Dickerson
Maribel Duran
Nikki Ferraro
Jennifer Fioretti
Lynsi Garvin
Amina Gilyard James
Phillip Green
Karim Guirguis
Katharine Hale
Molly Haines
Katie Hickey
Francis Homer
Megan Jordan
Alex Karkeek
Mercedes Kirkland-Doyle
Paul Kohlenberger
Patrick Kunze
Roy Lee
Nicole Lewis
Jacqueline Malkes
Molly McIntosh
Alison McNeil
Jennifer Mellon
Adele Nelson
Liz Norton
Yadira Sanchez
Michael Spotts
Aubreana Stephenson Holder
Camille Stewart
Chris Sundlof
Elinor Tesfamariam
Charles Thomas
Danielle Vogel
Andrew Watson
Zuberi Williams
Shanta Whitaker
Slavomir Zapata
40 Under 40 Honorees 2016
Margarita Benavides
Jonathan Beninson
Alexandra Bocian
Paul Bui
Nicole Callahan
Brett Cooper
Tim Denning
Traci DeShazor
Jeremy Ferrara
Jennifer Galloway
Mary Goldsmith
Ashley Hammond
Angela Kasey
David Kinney
Courtney Kissell
John Kusturiss
Anette Levano
Robert Mandle
Amanda Martin
Nathaniel Mauer
Garrett McGuire
John Meehan
Michael Mesmer
Joy Myers
Vivek Nakarmi
Kathryn Oberg
Taryn Overman
Harold Pettigrew
Meg Rapelye
Jomanda Richards
Annie Rinker
Tim Riordan
Margarita Rozenfeld
Cameron Snyder
Lauren Stovall
Lori Ann Terjesen
Darren Tully
Matisa Ullrich
Christine Wilson
Tim Winter
40 Under 40 Honorees 2015
Tom Bartlett
Jessamyn Berniker
Gabrielle Bosche'
Eric Brescia
Steven Brown
Alayna Buckner
Sheyna Burt
Emmanuel Caudillo
Charles Clancy
Danielle Craddock
Katie Cristol
Lyndsey DePalma
Kristina Dorville
Sara Duke
Beatriz Duque Long
Moley Evans
Mark Fedorchak
John Goldener
John Grant
Brodie Gregory
Julie Huang Tucker
Sara Jaffe
Jennifer Meder
Courtney Mesmer
Maureen Nesselrode
Koube Ngaaje
Kyriakos Pagonis
Shy Pahlevani
Devanshi Patel
Veronica Perez-Perea
Evan Pritchard
Courtney Reeve
Angela Rose
Jane Rudolph
Kevin Shooshan
Eugene St. Clair
Alex Tremble, Jr.
Zach Wahl
Megan Wheeler
Sheila Yosufy
40 Under 40 Honorees 2014
Salim Adofo
Nyambo Anuluoha
John Ayers
Mike Barnes
Sindy Benavides
Katherine Bianco
Scott Brodbeck
Ginger Brown
Billy Buck
Nadia Conyers
Jeffrey DiLisi
Laura Gamse
Erikka Gleckel
Scott Gold
Nick Gregorios
Chris Hamm
Julia Hamm
Sarah Hillware
Paul Holland
Jennifer Hovis
Melissa Impastato
Krysta Jones
Elizabeth Jones Valderrama
Kim Klingler
Matthew Kulkin
Dania Matos
Ann McCarty
Ron Novak
Joseph Petty
Mike Richardson
Kate (Roche) Bates
Andrew Schneider
Kelly Shooshan
Marcio Silveira
Terron Sims, II
Paul Singh
Elaine Turville
Andy VanHorn
Kedrick Whitmore
Steven Yates