IGNITE YOUNG PROFESSIONALS
The purpose of the Ignite Young Professional Program is to expose participants to skills, ideas, and established area leaders, offer a space to explore personal and professional leadership development, and catapult emerging leaders into situations that create value and impact.
Ignite Young Professional Top Deliverables:
Cross-sector relationships with fellow regional classmates, creating an instant cohort of peers
A personalized "DISC, Management" profile assessment and training
Exposure to diverse area nonprofit and business leaders, including guided, small groups discussions with mentors from the Leadership Arlington alumni group
Education sessions with experts in areas including leadership theories, high-performing teams, diversity, equity, inclusion and belonging, networking, presentation skills, and conflict resolution
Hands on development of leadership and civic engagement skills in a high-impact team service project with one of Volunteer Arlington's nonprofit partners
Ticket to the annual Regional Leadership Summit at which fellow participants of other Northern Virginia leadership programs join to explore regional issues with area leaders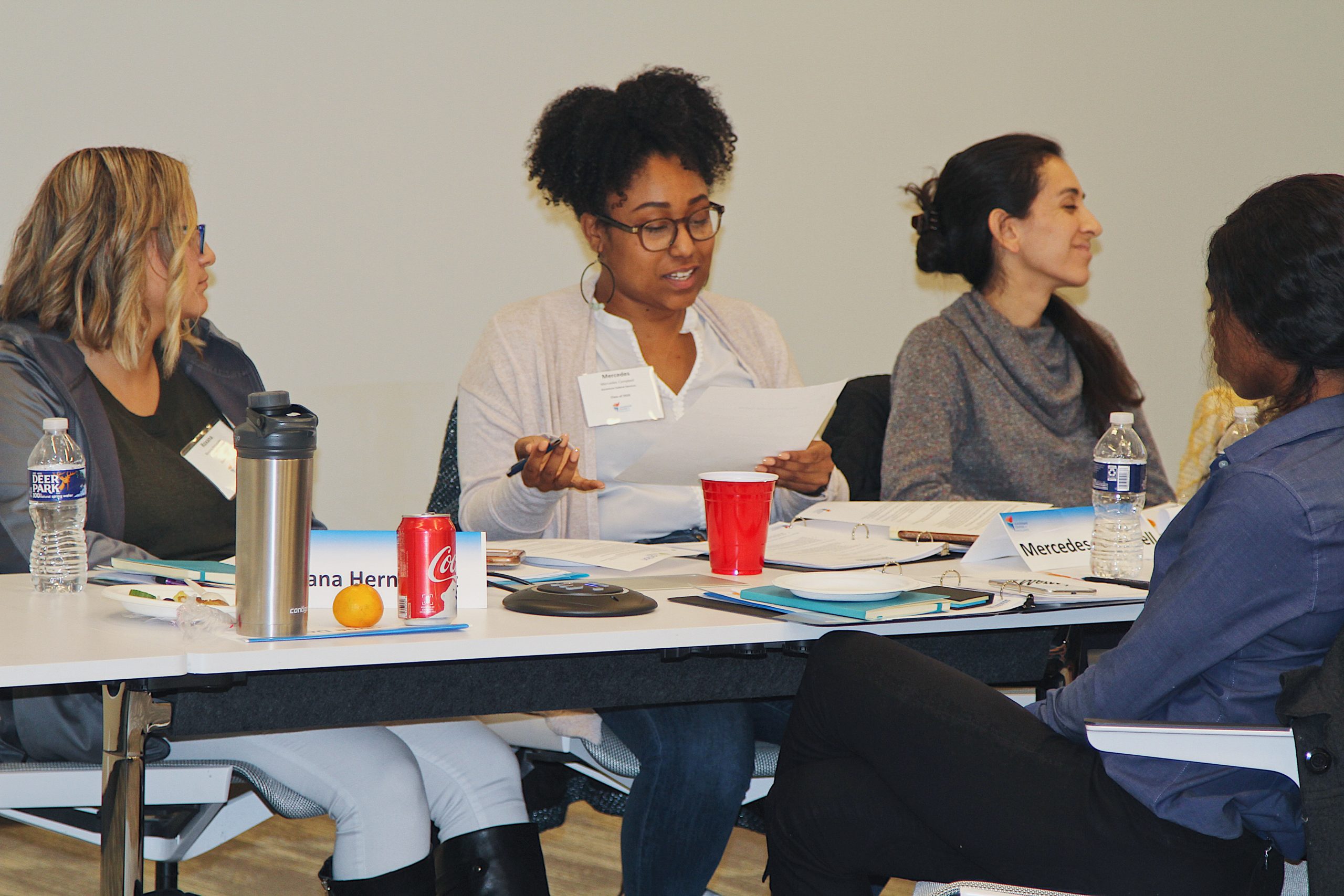 The Ignite Young Professionals Class of 2024 includes 30 leaders from the business, government, and nonprofit sectors:
Lizzi Alarcón, Arlington County Government, Department of Human Services
Tommy Amal, National Association for College Admission Counseling
Tanishia Bailey, Booz Allen Hamilton
Cliff Ballena, Animal Welfare League of Arlington
Niall Conrick, Clark Construction
Jana Godaire, Chain Bridge Bank, N.A.
Jamari Green, Deloitte
Samuel Hill, Arlington County Government, Treasurer's Office
Maggie Hutzel, GDIT
Addy Johnson, Accenture
Alana Kasindorf, Nestlé
Ta'Jah Martin, Arlington County Government, Department of Environmental Services
Natalie McClellan, Brookfield Properties
Margaret McCoy, Aspire Afterschool Learning
Kiana McKenna, NRECA
Celeste McKenzie, Arlington Community Federal Credit Union
Samantha McNamara, Arlington County Police Department
Adeline Mishler, EY
Dymand Mitchell, Aridai
John Musso, Arlington Chamber of Commerce
Laney Parrott, AHC Inc.
Jasmine Pierce, Accenture Federal Services
John Reynolds, Maximus
Aida Salamanca, Arlington Free Clinic
Rachel Seay, The Craddock Group
Joseph Shook, Clark Construction Group, LLC
Carli Sims, Gilbane Building Company
Zachary Smith, Brown Advisory
Katherine Thompson, LMI
Margaret Vaughan, Strategic Engineering Solutions
SCHEDULE
Classes will meet on the following days from 12:00 p.m. – 5:00 p.m.
Thursday, October 12, 2023
Thursday, November 9, 2023
Thursday, December 7, 2023
Thursday, January 11, 2024
Thursday, February 8, 2024
Thursday, March 14, 2024
Thursday, April 11, 2024
Thursday, May 16, 2024 - Regional Leadership Summit and Commencement (followed by reception)
TUITION/SCHOLARSHIP DETAILS
$3,000
Leadership Center for Excellence (LCE) encourages all qualified candidates to apply regardless of financial status.
Tuition covers the monthly programs, one ticket for the Regional Leadership Summit and Alumni Reception, and access to the LCE alumni directory and ongoing alumni resources and networking opportunities.
LCE provides partial scholarships to nonprofit and small business applicants, based on need and funds available. Scholarship requests are not a factor in the selection process.
Scholarship applications are due at the same time as the program applications (Friday, May 26, 2023 at 5:00 p.m.). Scholarship applications will not be accepted after this date.
Janetta Brewer (LA '17)
Christina Dietrich (LA '23)
Will Flagler (LA '17)
Takis Karantonis (LA '10)
Kris Krider (LA '19)
Rupal Lamorena (LA '19)
Matt Owens (LA '21)
Mike Richardson (LA '13)
Debby Taylor (LA '99)
Diana Waller (LA '18)
Mary-Claire Burick
Stacy Cook (LA '19)
Charles Davidson
Scott Nycum (LA '14)
Mary Ellen Payne (LA '11)
Kristine Wood (LA ' 15)
"My expectations after my acceptance to the Spring 2014 Young Professionals Program class were to sharpen some professional skills, learn about the new community to which I had recently moved and make a few contacts along the way. The program exceeded those expectations and more!"
Dan Imhoff, BB&T, Spring Class of 2014 Participant
"[Ignite] gave me some useful tools to understand myself better and look at my professional development and personal branding in a different light. My biggest advice to anyone looking to be part of this experience is to come with an open mind and an eagerness to take in all the experiences. Post cohort, I believe I am a more confident person who is comfortable taking the lead. I have also been promoted within my organization and I have been put into more leadership roles. I am really grateful to the Leadership Center and all my colleagues that made it worthwhile."
Edgar Awumey, AHC, Inc., Class of 2022 Participant
"I've been pleased to witness the transformation of my team members who have completed the Leadership Center's Young Professionals Program. Their confidence, collaborative spirit and broader consulting skills have developed significantly as a result of the program. Though we always pride ourselves on hiring the best at every level, the Young Professionals Program catapults these rising stars forward at a significantly greater pace."
Zach Wahl, Enterprise Knowledge, Employer of Participant
"Leadership is the key to success for businesses and communities. I can think of no better preparation for future leaders in this area than the Young Professionals Program."
Todd Yeatts, Boeing, Employer of Participant