Arlington Cares Volunteer Awards Announced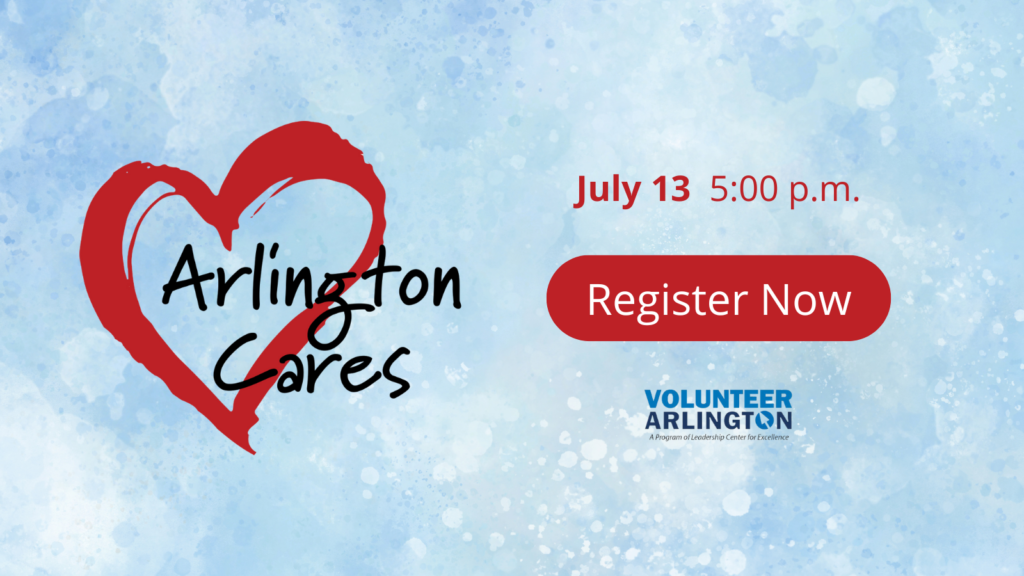 Arlington, VA. – Volunteer Arlington, a program of the Leadership Center for Excellence, will hold its seventh annual Arlington Cares event on Thursday, July 13, 2023, to celebrate this year's volunteer awardees.
"Arlington Cares is a yearly reminder to celebrate individuals who make a marked difference through service," said Lisa Fikes, President and CEO of the Leadership Center for Excellence. "The 2023 award winners are all genuine examples of individuals who have identified a cause and worked behind the scenes on a consistent basis to support their community. We are thrilled to hold up their example!"
2023 Volunteer Award Winners
Lifetime of Service Award: Carol Skelly, Developmental Disabilities Committee, Arlington Community Services Board
Distinguished County Service Award: Andrea Walker, Arlington Commission on Aging and Us Bus Inter-generational Walking School Bus
Distinguished Corporate Service Award: Bayou Bakery, Chef David Guas
RSVP Award: Kristen Pollard, Rebuilding Together Arlington/Fairfax/Falls Church
Family Service Award: The McPherson-Holland Family, Encore Stage and Studio
Youth Service Award: Avery Park, Doorways
Volunteer Arlington Award: Mary Highsmith, The Shepherd's Center of McLean- Arlington-Falls Church
Jummy Olabanji of NBC4 Washington will emcee the event. During the celebration, Volunteer Arlington will also recognize people who have spent 100 hours or more volunteering for an individual organization between July 1, 2022, and June 30, 2023.
Additionally, representatives from local nonprofit and Arlington County partners will be present to share their missions and volunteer opportunities.
Arlington Cares is a free event and requires pre-registration. It is returning to the NRECA as an in-person event this year on July 13, 2023, from 5:00 – 7:00 p.m. Learn more and register at volunteer.leadercenter.org/arlington-cares.
About Volunteer Arlington
Volunteer Arlington, a program of the Leadership Center for Excellence, connects individuals, groups, and businesses to local nonprofit and county volunteer opportunities. The mission of the Leadership Center for Excellence is to connect, develop, and inspire leaders for personal growth, civic engagement, and community impact. For more information, visit leadercenter.org or volunteer.leadercenter.org.