Leadership That Serves Our Pets and Their People: Sam Wolbert Alumni Story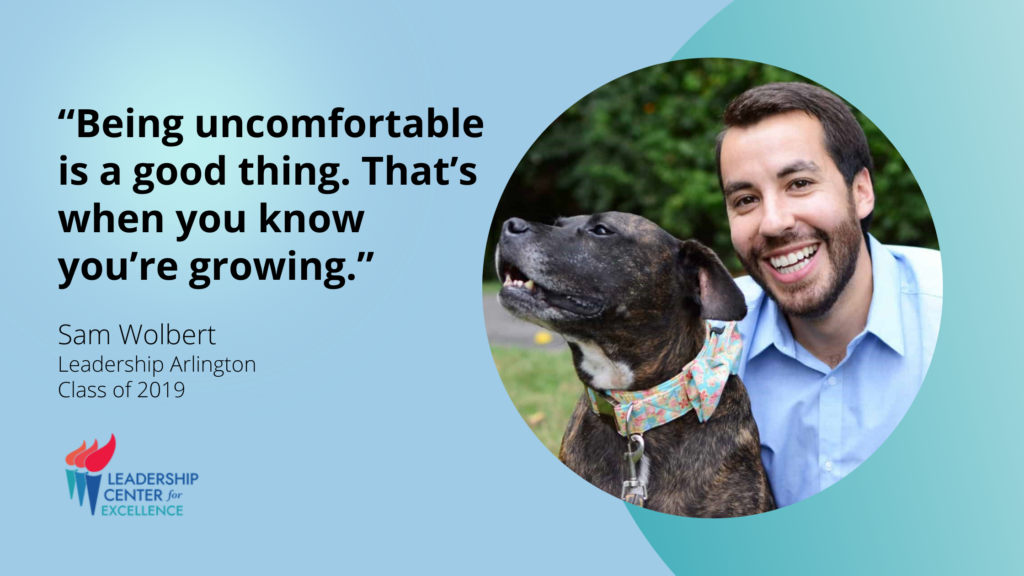 Sam Wolbert (LA '19) didn't waste any time waiting to jump into Leadership Arlington. Within a week of beginning as the President & CEO of the Animal Welfare League of Arlington (AWLA), he was in touch with the Leadership Center for Excellence (LCE) to explore applying to the program. He was enthusiastic about connecting with other leaders and learning about the local community.
Sam came to the animal welfare field by route of law school and business law work and then a realization that animal welfare is a great cause to focus his skills and passion.
Sam's love for animals started at age five or six with his first dog Odie. Pets were a passion of his family's even before Sam was born. Growing up, his mom frequently used her allowance to buy pet food to feed stray animals. As Sam says, they "became hers in a way." His experience with Odie planted the seed for Sam to be a lifetime pet parent. Sam has had many pets, but his first dog of his own Penny stands out. Penny was a rescue pit bull mix. "There's always that one animal that is the reason you're doing what you're doing, and Penny was that pet for me," shared Sam. "… she had a little bit of a tough background and was overlooked for many reasons … but she was the best dog with a great personality. Once you invite [an animal] like that into your life, it can change you." And it did change Sam.
He always knew he wanted his work to make a positive impact. Through his experience as a pet foster parent, he realized that animal welfare could be a career path. He was drawn not only to the animals, but the ability to see the direct impact of the work. Reflecting on his experience leading AWLA as the Executive Director, Sam shared, "We're very fortunate here in Northern Virginia … people love their animals … and there's a lot of resources for animal welfare."
As part of the Leadership Arlington program, Sam took a DiSC assessment and found it extremely helpful in recognizing his own leadership style. His results revealed him as an "S" and a "C," meaning that as a leader, he likes to be behind the scenes building others up. He describes his leadership style as "democratic" and focuses on bringing people into the discussion. "The more feedback you have in a decision, the better that decision is going to be," commented Sam. "It's not about me. It's about the organization and the people who work here."
Sam's primary focus over the last few years as Executive Director has been investing in and supporting the "people power" of the AWLA team. To that end, AWLA works to have an environment that is welcoming and inclusive, not only of its employees but also of their pets. Staff can bring their pets to the office day-to-day and Sam says, "You get to know not just the employee, but their pet as well."
What some people might not realize is that the AWLA team is focused on caring not only for local animals, but also their people (or parents). AWLA works closely with many partner organizations like the Arlington Food Assistance Center to be part of the safety net system. The relationship between pets and their people is an important part of the community safety net. "Food insecurity exists in Arlington," commented Sam. "If people are hungry, then generally their pets are going to be hungry as well."
Since graduation from Leadership Arlington, Sam has given back to the Leadership Center for Excellence and the local community by serving as a mentor for the Ignite Young Professionals Program. His advice to young professionals growing in their leadership is to know your strengths, weaknesses, and motivations and focus on being a "mindful leader." It's important to know when to take a step back and put yourself in someone else's shoes. When you put yourself in another's shoes, you can have more empathy and solve problems more effectively because you understand other people's motivations and communication styles. He also noted that leaders need to ask, "Why do I want to do what I'm doing?" and constantly look for opportunities to learn and embrace things that make you uncomfortable. "Being uncomfortable is a good thing," shared Sam. "That's when you know you're growing."
The Leadership Center for Excellence is grateful for Sam's leadership in the local community, mentorship to up-and-coming leaders, service to local pets and their people, and commitment to lifting up the voices of the people whom he leads.
LCE's Leadership Arlington program connects, develops, and inspires a diverse network of established leaders and empowers them with the knowledge and commitment to transform and support our community. Do you know someone who would be a strong candidate for Leadership Arlington? Please consider submitting a nomination.