Uncharted Territory: Leadership and People First When a Pandemic Hits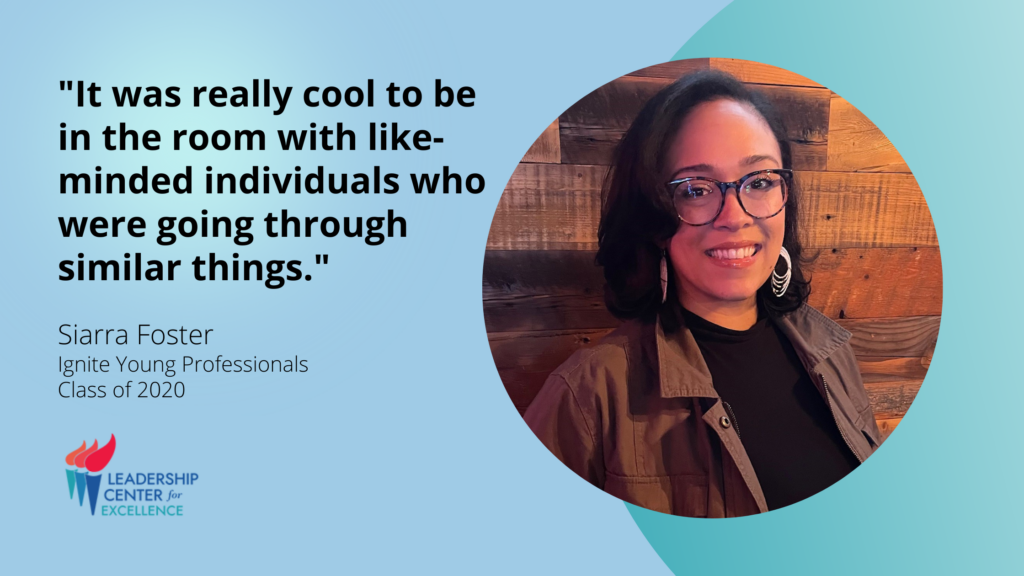 Siarra Foster (Ignite '20) was the General Manager of Bowlero Arlington in Crystal City when the COVID-19 pandemic hit, shutting down the country and causing shockwaves through the hospitality industry. Siarra was expected to lead her location in a way that no one in Bowlero, or any other part of the industry had ever had to lead.
Her staff was struggling. Siarra's priority became to lead with empathy as team members dealt with the fear of the virus, uncertainty about economic prospects, and often challenging situations with guests. She was enrolled in the Leadership Center for Excellence's Ignite Young Professionals Program at the time and leaned on her classmates for personal support and insights as the program shifted virtually. "The timing was absolute perfection," she says. In terms of her leadership skills – "I think I had them, I just didn't know what they were or how to polish them … Being a leader during the pandemic, as many people know, it's uncharted territory … there was not one clear cut way to manage."
As the crisis unfolded, her leadership strategy was focused on giving grace and flexibility to staff in navigating their schedules and fears on the job. She was committed to "leading empathetically" with the mindset that "my team comes first." She kept the culture light and fun by dressing up in costumes and making staff laugh. At the same time, the Bowlero team was having to make allowances for guests who were also struggling and not always at their best. They had to extend grace and empathy to those guests as well.
As the pandemic started to lift, Siarra and her team struggled as they kept seeing the world start to return, and then revert backward again. Siarra was in a tough position to juggle what had made the location successful during the pandemic, and what the business needs were at the time. Despite enormous challenges, Bowlero's Arlington location ended up being the most profitable in the country, out of about 300 locations. Siarra cites the focus on building a team as the defining factor in that success. She's since been promoted multiple times and currently serves as the Director of Training for Bowlero. She says that the Ignite program was a critical part of her success, especially as the curriculum included information about difficult conversations and navigating conflict. The peer connections were key as well.
The path that has led here was constantly difficult and an important part of her journey has been training her team to put their hands up to ask for help when they need it. While serving as General Manager, she ended up having to do this herself. Siarra cites a moment when her team approached her about what they perceived as her not being present and focused in a moment. Siarra took a risk and decided to share her struggles with anxiety and how it showed up at work. She was nervous about telling them, but her team immediately strategized to spot when she is experiencing anxiety and how they can step in to support her. Siarra came to realize that "I had a team that would run through walls for me" to bring her leadership vision to life, and it paid dividends for their team culture, as well as the business's profitability.
Ultimately, Siarra Foster's leadership journey is all about putting people first and supporting them to be the best version of themselves. She says that "managing during COVID was one of the hardest experiences I've ever had. I think I'm a better person and a better leader for it." The Bowlero team has benefited profoundly from her commitment to putting people first in all business decisions, and she's set an example for locations across the country.
LCE's Ignite Young Professionals program exposes participants to skills, ideas, and established area leaders to explore personal and professional leadership development. It is designed for emerging leaders.

Applications for the Ignite Young Professionals Class are accepted each spring. Nominations are accepted year round.