A Passion for Education and Leadership: Bill Fogarty Alumni Story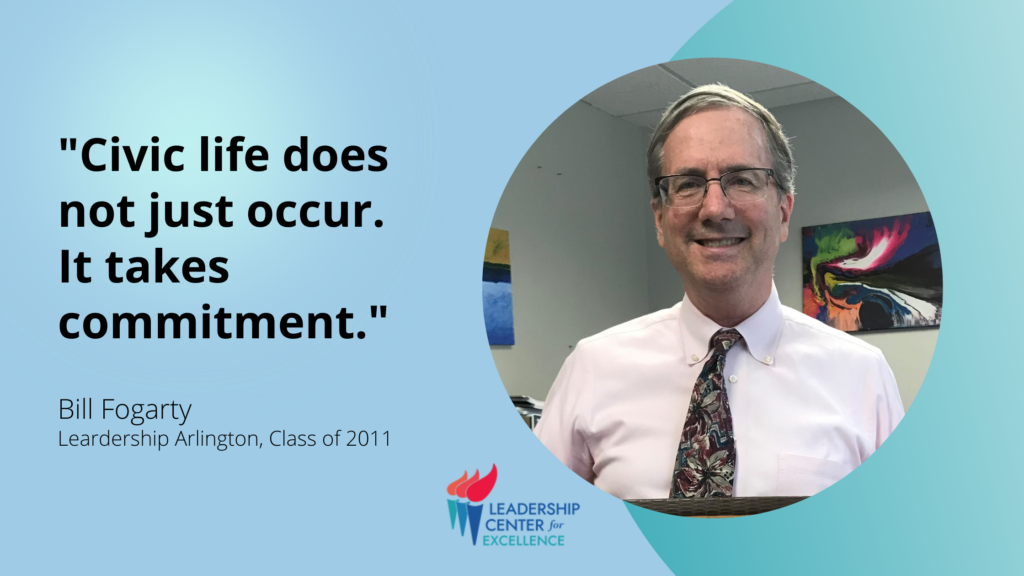 Civic engagement is a passion for Bill Fogarty (LA '11), and he isn't one to turn down an opportunity to make an impact. While many people in the local community know Bill for his 35-year legal career as a shareholder at Walsh, Colucci, Lubeley & Walsh or his numerous community leadership roles, they might not know that he actually started his career as a high school English teacher and track coach.
Bill remembers the beginning of his career by saying "Teaching is hard. I have so much respect for teachers." With encouragement from a friend, Bill decided to pivot to pursue law school and a legal career, but education and coaching remained a passion and priority for him. At the time that Bill participated in Leadership Arlington, members of the class planned curriculum days and Bill eagerly signed up to plan Education Day. Even after he graduated, he kept Walsh, Colucci, Lubeley & Walsh involved as a regular sponsor of the annual Education Day so that local leaders can familiarize themselves with the ins and outs of local education.
Bill's passions have come to life through numerous leadership roles over the years. For 15 years, you could have found him coaching on the soccer field with the Arlington Soccer Association. When his children were very young, you would have come across him on one of Arlington Public Schools' committees to advise the School Board. In the early years of the Arlington Partnership for Affordable Housing (APAH), he was in their Board room, and eventually led the organization during a period of growth by serving as the APAH Board Chair. He's served on the Board of Trustees of his church, on the Board of the Arlington Chamber of Commerce, and he's taken on numerous other volunteer leadership roles in Arlington throughout his career. If he sounds busy, that's because he is – even in retirement. He thinks that an Arlington Circuit Court judge said it best that "if you want to get something done, give it to a busy person." Bill's perspective is that "it's ok to be busy, because it implies that you've become more efficient." For those who are looking to become engaged in the community, he encourages them to "be willing to take some risks to get involved with a group … don't let the fear of other commitments bother you."
As a former teacher, Bill understands the importance of serving and cultivating the next generation of leadership. In his legal career, he takes pride in having built a strong base of young attorneys to continue the firm's work. As a seasoned Board member, he understands that "part of leadership is building a team. Even when you're part of a team or you're on a Board, for example, you don't want to be the Chair forever. You have to work on succession. One lesson is that you really need to keep thinking ahead of what's going to happen in one year or two years from now."
Although Bill has entered retirement after a long and successful career, his leadership journey isn't stopping. For future leaders looking to follow in his passionate volunteer footsteps, he feels strongly that "civic life does not just occur. It takes commitment." He encourages future leaders to "be willing to make that commitment … Work through the fear of the unknown and make the time because there will be benefits … Get involved, because selfishly you can grow, and altruistically you can serve the community."
LCE's Leadership Arlington program transforms highly motivated individuals into a network of leaders committed to the community. It is designed for experienced leaders who want to increase their impact on their organization and their communication.

Applications for the Leadership Arlington Class of 2024 will open in early 2023. Nominations are accepted year round.