Amanda Ripley to Give Keynote at Leadership Summit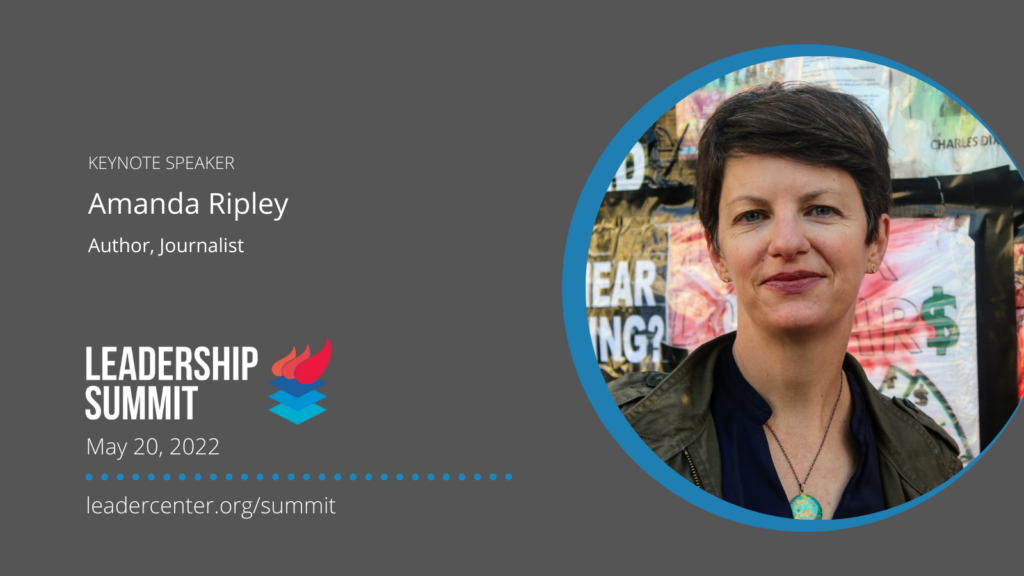 Arlington, VA – The Leadership Center for Excellence's annual Leadership Summit on May 20, 2022, will feature a keynote presentation from Amanda Ripley.
There are options to participate in person at Marymount University's Ballston Campus or online via a virtual event platform. Doors will open at 12:30 p.m. and programming will start at 1:00 p.m.
The Leadership Summit is a half-day leadership development program for established and emerging leaders. It also serves as the culmination of the Leadership Center's Class of 2022 programs including Leadership Arlington, Leadership Alexandria, and Ignite Young Professionals.
The theme of this year's Leadership Summit is "Reimagined Leadership." Participants from the Northern Virginia and D.C. area will hear from national leaders who specialize in high conflict, diversity, equity, & inclusion, and human resources.
Amanda Ripley is an investigative journalist and best-selling author of The Smartest Kids in the World, The Unthinkable, and High Conflict. She writes and speaks about human behavior and change.
"We are thrilled to once again bring together professionals from the region to connect, reflect, and learn," said Lisa Fikes, President and CEO of the Leadership Center for Excellence. "This year's event aims to help participants reimagine leadership as we seek to care for our teams and the people around us."
The 2022 Leadership Summit is sponsored by Accenture, Dominion Energy, and Graham Holdings.
Following the conclusion of the program, Leadership Summit attendees and LCE alumni are invited to a reception from 5:30 – 7:00 p.m.
Learn more and register at leadercenter.org/summit.
About Leadership Center for Excellence
The mission of the Leadership Center for Excellence is to connect, develop, and inspire leaders for personal growth, civic engagement, and community impact. For more information, visit leadercenter.org or call (703) 528-2522. 
Media Contact
Jennifer Roeder
Communications Consultant
(703) 528-2522
jroeder@leadercenter.org